Halloween Songs, Poems and Recipes
October 12th, 2010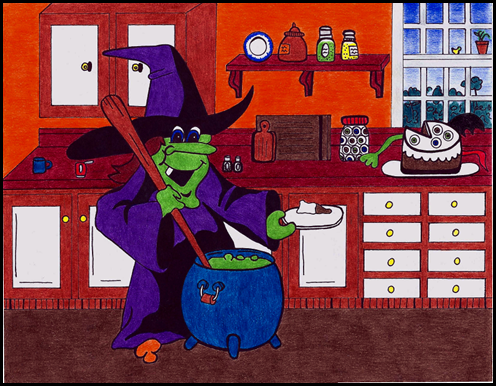 Gracie Gralike sent me this wonderful illustration for Halloween.  I love the details!
In order to help get you in the mood, I'm posting links to our Halloween songs, poetry and recipes below…
Happy Halloween! 
Many thanks to Gracie for sharing such a great drawing!
Feel free to share your favorite Halloween song, poem or recipe in the comments below.
Mama Lisa
This article was posted on Tuesday, October 12th, 2010 at 10:10 pm and is filed under Children's Artwork, Countries & Cultures, England, English, Halloween, Halloween Dinners, Halloween Poems, Halloween Songs, Holiday Songs, Holidays Around the World, Kids Halloween Art, Languages, Nursery Rhymes about Halloween, United Kingdom, USA. You can follow any responses to this entry through the RSS 2.0 feed. You can skip to the end and leave a response. Pinging is currently not allowed.
Leave a Reply