Recipe for Papitas de leche – Venezuelan Holiday Dessert for Kids
April 2nd, 2018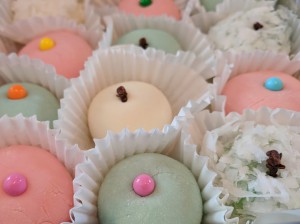 Papitas de leche is a dessert that's made for children's birthday parties in Venezuela. They're also made for various holidays such as Christmas, Easter, Halloween and events like weddings, christenings and 1st Communions. They're mainly made for children although adults in Venezuela also enjoy them as a sweet reminder of childhood.
This candy comes from the Andes and dates back to the time before colonization, when they began to install convents in Venezuela. The nuns used to prepare little delicate sweets, among them Papitas de leche.
Papitas de leche can literally translate to "little milk potatoes". That's because the traditional variety are little white balls that ressemble little white potatoes. We think Little Milk Bites or Milk Truffles comes closer to describing them. Many of the people I gave them to taste thought they were somewhat like marzipan, though that might be because I added almond extract to some of them.
These are really easy to make. You can prepare them with even the youngest in the house, because they don't require the use of utensils, an oven or even a kitchen. Because of this, they would be easy to make in a classroom too.
You can split up the dough and add food coloring for variety. You can also add cinnamon or extract for flavoring.  As mentioned, I used almond extract for some of them. Traditionally, a clove is put in the center and that adds flavoring over a couple of days too. If you prefer, you can use other decorations, like putting a little round edible candy in the center.
Recipe for Papitas de leche
Makes 25 – 1 1/2 inch candies (more if smaller)
Ingredients
2 cups Dried Whole Milk (225 g.)
1 1/2 cup Confectioners Sugar (275 g.)
1 can Sweetened Condensed Whole Milk (14 oz.)
Optional
Small Cupcake Holders
Cloves
Little Round Candies
Cinnamon (1/4 t.) or Almond Extract
Food Coloring
Directions
1. In a mixing bowl, whisk together the dried milk and confectioners sugar. Then put to the side 1 – 1 1/2 c. of the mixture. If you're using cinnamon powder you can add that in at this point.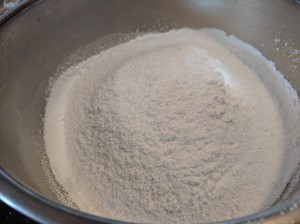 2. Little by little (but quickly) mix in the sweetened condensed milk with a wooden spoon. Once that's all mixed together, you can slowly add in the remaining dried milk mixture. Once you can no longer mix it in with the spoon, put a little confectioners sugar on your hands and knead the rest in. It will take about 10 minutes to get a smooth dough. Don't stop in the middle of the process because it could harden.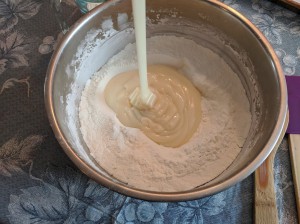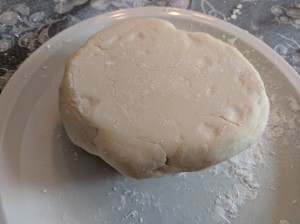 3. If you're making the dough different colors you can take off a chunk of dough and add a little food coloring to it. If you're making some almond flavored, you can add some almond extract at this point. Knead together until the dough forms one consistant color. I recommend leaving some white since that's the traditional color.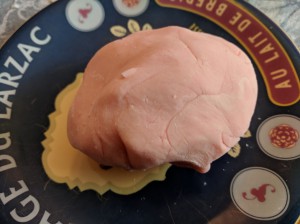 4. Form the dough into 1 1/4 to 1 1/2 inch balls (~3.8 cm.). They should be a little flattened.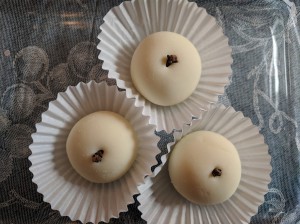 5. Place in a little cupcake holder and place a clove or little round candy in the center.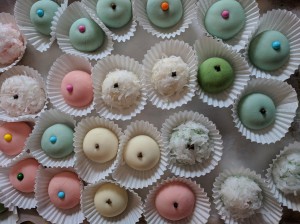 Continue until all of the dough is used. Store in an airtight container.
Enjoy!
Mama Lisa
Note: I found a similar recipe from Brazil called Milk Powder Candies. It's made with coconut milk instead of sweetened condensed milk.
This article was posted on Monday, April 2nd, 2018 at 8:50 pm and is filed under Baby Showers, Birthdays, Candy, Christmas, Christmas Recipes, Countries & Cultures, Desserts, Easter, Easter Recipes, Halloween, Halloween Recipes, Holiday Recipes, Holidays Around the World, Kids Parties, Mama Lisa, Papitas de leche, Parties, Recipes of the World, Venezuela, Weddings. You can follow any responses to this entry through the RSS 2.0 feed. You can skip to the end and leave a response. Pinging is currently not allowed.
2 Responses to "Recipe for Papitas de leche – Venezuelan Holiday Dessert for Kids"
Lily Says:
April 30th, 2021 at 7:10 am

How long can they be stored for?

Lisa Says:
April 30th, 2021 at 1:55 pm

According to this site, "You can refrigerate the Papitas for up to 3 days. Make sure that they are well covered with 2-3 layers of plastic."
Leave a Reply