Bloody Mary – Scary Halloween Fun!
October 25th, 2010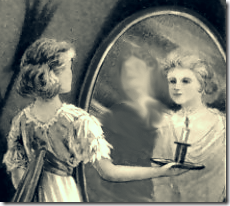 Bloody Mary is the legend of a girl or lady who died under mysterious circumstances. In some versions, she may have also been a murderer.   Tweens and teens play this "game" where they go into the bathroom at night and stand before the mirror.  Then they say "Bloody Mary" a specific number of times (in most versions it's 3 times, though sometimes more).  Then they're supposed to see Bloody Mary's face in the mirror.  Some believe if you see her in the mirror, she'll reach out and harm you. 
Sometimes, "Bloody Mary" is called Mary Worth instead. 
My daughter's friend told us about "Bloody Mary" in the mp3 below…
We decided to try it…
Podcast Trying to See if Bloody Mary Works
Here are some YouTubes about Bloody Mary…
Beware of Bloody Mary in the bathroom mirror at night!
Thanks to Marisa for sharing this story with us.
Happy Halloween!
Mama Lisa
This article was posted on Monday, October 25th, 2010 at 3:39 pm and is filed under Bloody Mary, Countries & Cultures, Folk Lore, Halloween, Holidays Around the World, Podcasts, Superstitions, USA, YouTube. You can follow any responses to this entry through the RSS 2.0 feed. You can skip to the end and leave a response. Pinging is currently not allowed.
Leave a Reply