Panna Cotta Skull – A Great Dessert for Halloween or The Day of the Dead
October 26th, 2010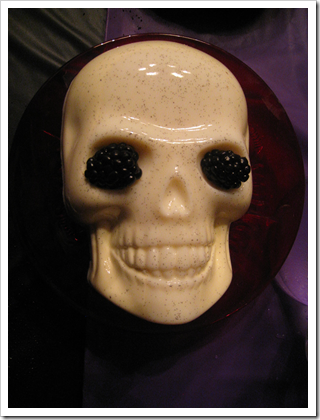 Panna Cotta is an Italian custard made without eggs. It's thickened with unflavored gelatin. In Italian, "panna" means "cream" and "cotta" means "cooked".  It's literally cooked cream.
The white color of panna cotta is great for putting into a skull mold to make a cool dessert for Halloween or The Day of the Dead. I recommend using vanilla bean instead of extract. This gives the skull a neat speckled look.
Check the volume of your mold beforehand to see if you need to double the recipe.
Panna Cotta Recipe

2 cups heavy cream
1 cup milk
1/2 cup sugar
1 vanilla bean
3 teaspoons unflavored powdered gelatin
Blackberries (at least two for the eye sockets)

1) Dissolve the gelatin in 1/2 cup of the milk and let sit for at least 5 minutes.

2) Put the cream and the other 1/2 cup milk into a heavy saucepan. Split the vanilla bean lengthwise and scrape out the seeds right into the cream/milk mixture. Add the sugar. Cook over medium heat and bring to a simmer, stirring occasionally. Take it off the heat.

3) Add gelatin mixture to the hot cream/milk mixture and whisk until dissolved.

4) Put the skull mold in a bowl to keep it straight.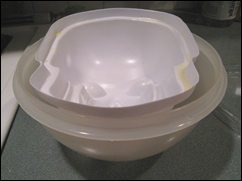 5) Pour mixture into the skull mold to the top of the rim.  Let it cool off a little and then cover with plastic wrap

6) Refrigerate overnight to firm it up. 

7) To remove the dessert from the mold, put some warm water into the bowl that's holding the mold. Let the mold sit in it for a couple of minutes. This will help loosen the panna cotta from the mold.  Then blot off the outside of the mold so it doesn't make the dessert wet.

8) Turn over mold and place onto a platter for serving. Once the panna cotta is on the platter and out of the mold you can add the two blackberries to the eye sockets.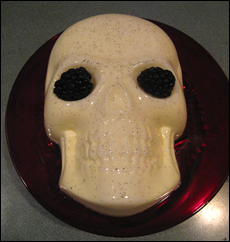 9) Serve with berries.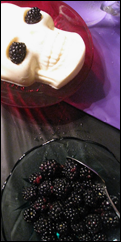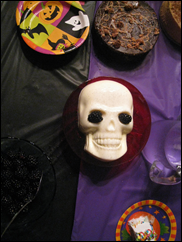 Many thanks to my sister Dawn for serving us such a tasty, fun dessert!
Have a great Halloween or Day of the Dead!
Mama Lisa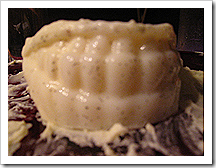 Leave a Reply