A Meatloaf Frankenstein You Can Make for Halloween
October 30th, 2007
You can use your favorite meatloaf or meatball recipe for this. The important part is to shape it into a Frankenstein like in the photo below. The "stitches" are made of slivers of black olives and the eyes are put in after Frankie comes out of the oven. They're simply slices of green olives with pimentos in them.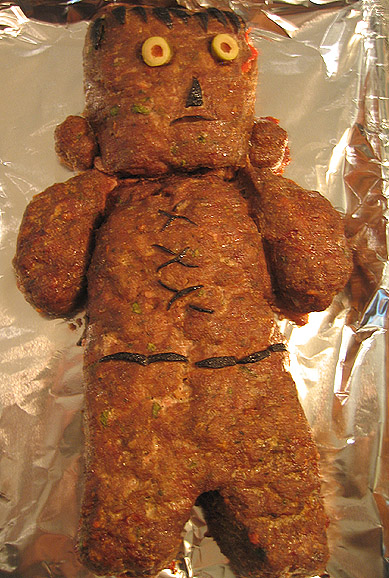 This shows how you can use your imagination to make holiday food more fun for children and adults alike.
-Mama Lisa
Many thanks to Diane and Dawn Yannucci and Jackie Walsh for the scary dinner!
This article was posted on Tuesday, October 30th, 2007 at 4:14 pm and is filed under Countries & Cultures, English, Halloween, Halloween Dinners, Halloween Recipes, Holidays Around the World, Languages, Main Course, Mama Lisa, Recipes of the World, USA. You can follow any responses to this entry through the RSS 2.0 feed. You can skip to the end and leave a response. Pinging is currently not allowed.
5 Responses to "A Meatloaf Frankenstein You Can Make for Halloween"
Leave a Reply