The Ghosts' High Noon
November 1st, 2010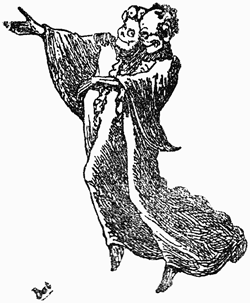 The Ghosts' High Noon is a ballad written by W.S. Gilbert, with the tune created by Arthur Sullivan. It's from Gilbert and Sullivan's comic opera called Ruddigore or The Witch's Curse.
Below you'll find different renditions of the song. Sometimes it's sung as a ballad, other times it's read as a poem.
Listen to The Ghosts' High Noon (Sung by John Fricker)
Listen to The Ghosts' High Noon (Read by Ezwa)
Listen to The Ghosts' High Noon (Read by Jason Bortles)
Ballad: The Ghosts' High Noon
by W. S. Gilbert
When the night wind howls in the chimney cowls, and the bat in the moonlight flies,
And inky clouds, like funeral shrouds, sail over the midnight skies-
When the footpads quail at the night-bird's wail, and black dogs bay the moon,
Then is the spectres' holiday – then is the ghosts' high noon!
As the sob of the breeze sweeps over the trees, and the mists lie low on the fen,
From grey tombstones are gathered the bones that once were women and men,
And away they go, with a mop and a mow, to the revel that ends too soon,
For cockcrow limits our holiday – the dead of the night's high noon!
And then each ghost with his lady-toast to their churchyard beds take flight,
With a kiss, perhaps, on her lantern chaps, and a grisly grim "good night";
Till the welcome knell of the midnight bell rings forth its jolliest tune,
And ushers our next high holiday – the dead of the night's high noon!
Here you can watch a video of this song being sung…
You can find more ballads written by Gilbert online at Songs of a Savoyard by W. S. Gilbert
Enjoy!
Mama Lisa
This article was posted on Monday, November 1st, 2010 at 10:29 am and is filed under Countries & Cultures, English, Gilbert and Sullivan, Halloween, Halloween Poems, Halloween Songs, Holiday Poems, Holiday Songs, Holidays Around the World, Languages, Music, Poetry, United Kingdom, USA. You can follow any responses to this entry through the RSS 2.0 feed. You can skip to the end and leave a response. Pinging is currently not allowed.
Leave a Reply