Halloween is Coming Soon Song
October 30th, 2011
Here's a song Melisa, who's in grade school, taught me called Halloween is Coming Soon.  You can hear her chanting it eerily below…
MP3 of Halloween is Coming Soon
Halloween is Coming Soon
Halloween is Coming Soon
one, two, three,
If you want a spooky song
call on me.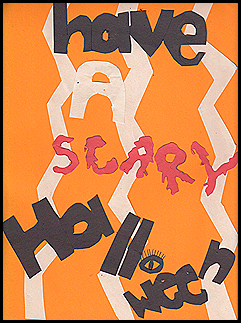 Many thanks to Melisa for singing this song for us and to Marisa for the artwork!
Mama Lisa
This article was posted on Sunday, October 30th, 2011 at 6:44 pm and is filed under Children's Songs, English, Halloween, Halloween is Coming Soon, Halloween Songs, Holiday Songs, Holidays Around the World, Languages, Recordings, Recordings of Songs. You can follow any responses to this entry through the RSS 2.0 feed. You can skip to the end and leave a response. Pinging is currently not allowed.
Leave a Reply