Halloween Recipe for a Heart with Worms!
October 22nd, 2006
Here's a simple recipe to make your Halloween so much more ghoulish…
Get a heart mold (or a mold for some other body part). Mix up some black cherry jello according to the directions on the box. You'll have to judge how much jello you'll need depending upon the mold you find. Put red shoestring licorice in the mold. Pour in the jello. Let the jello set in the refrigerator. The licorice will bloat up and look like worms when the jello sets!
When you're ready to display your wormy heart, turn it over onto a platter and serve.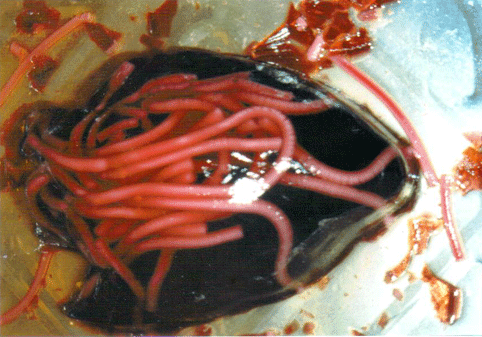 I didn't actually eat it. But it looked really cool!
This article was posted on Sunday, October 22nd, 2006 at 8:30 pm and is filed under Countries & Cultures, Halloween, Halloween Heart with Worms!, Halloween Recipes, Holidays Around the World, Miscellaneous, Recipes of the World, USA. You can follow any responses to this entry through the RSS 2.0 feed. You can leave a response, or trackback from your own site.
3 Responses to "Halloween Recipe for a Heart with Worms!"
kimberly ann dagg Says:
October 28th, 2006 at 11:47 am

Loved the recipe. Try this one. Make a package of choclate pudding put store candied worms in it. Let set, then sprinkle crushed choclate oreo crumbs on top. Kids will love worms in dirt.

Lisa Says:
October 28th, 2006 at 11:56 am

Yum! That sounds good!

ghost girl Says:
October 9th, 2009 at 2:12 am

Wow! This looks pretty scary. My kids will love it. Thanks.
Leave a Reply