How to Make Graveyard Cupcakes
October 29th, 2013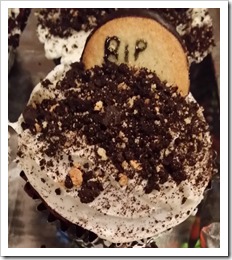 My daughter made these graveyard cupcakes for Halloween.  We used the packaged cupcake mix and premade icing because we were pressed for time. 
Note: You can use the same idea with a sheet cake if you prefer.
Recipe for Graveyard Cupcakes

Chocolate Cupcake Mix (plus eggs, vegetable oil and water to make the mix)
White Icing
Cupcake Wrappers (preferably black or brown)
Chocolate Cookies
Milano Cookies (or other white oval cookies with a tombstone shape)
Tube of Black Decorating Gel

1. Make the cupcakes according to the package instructions, using the cupcake wrappers to line the cupcake pan.

2. Ice the cupcakes.

3. Break the Milano cookies in half.  Use the black decorating gel with a toothpick to decorate the Milano cookies with "RIP" and different years to make cookie "tombstones".

4. Place the cookie "tombstone" in the back of the cupcake facing forward.



5.  Crumble chocolate cookies.  You can do this by putting some cookies in a Ziploc bag and "rolling" over it with a rolling pin.

6. Decorate the icing in front of the tombstone with the cookie crumbles to look like dirt from a recently dug grave.

Below you can see an old pic I have of a graveyard cake.  In that version, green icing was used instead of white icing and cookie crumbles.
That's all there is to making graveyard cupcakes.  Enjoy!
Mama Lisa
Inspired by Better Crocker's Tombstone Cupcake Recipe.
This article was posted on Tuesday, October 29th, 2013 at 11:13 am and is filed under Countries & Cultures, England, Graveyard Cupcakes, Halloween, Halloween Recipes, Holiday Recipes, Holidays Around the World, Recipes of the World, USA. You can follow any responses to this entry through the RSS 2.0 feed. You can skip to the end and leave a response. Pinging is currently not allowed.
Leave a Reply