Tools for Carving Jack-o'-Lanterns
November 1st, 2010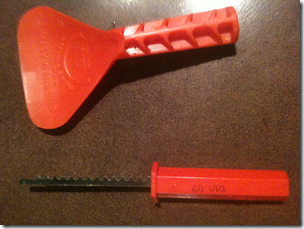 I normally make Jack-o'-Lantern's out of pumpkins using a normal knife.  This year I bought a cheap kit for carving pumpkins.  I found that it made a huge difference using the carver I got (pictured at the bottom in the photo above).  The top tool is for scraping out the inside of the pumpkin.  I used it in conjunction with a large spoon.  The two together worked well.
Also, I felt more comfortable letting my 9 year old daughter and her friend use the carver above.  Normally, when the tool is a knife, I do all the carving.  But with the tool above, I felt comfortable letting them carve under my guidance.
Next year, I'll definitely use these tools again. Having the right tools for the job is important.
Leave a Reply