The Hearse Song – 2 More Versions
July 9th, 2012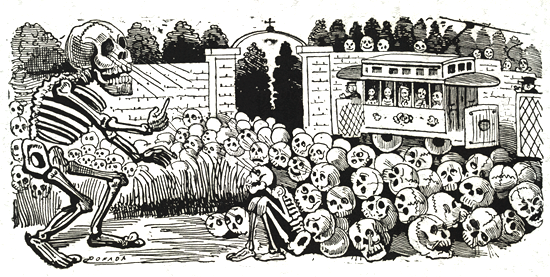 In the past we've posted many versions of The Hearse Song that our readers have sent in.  Recently we received two versions that somewhat differ from the others.  They were sent by Richard Smith.  Here they are:
My mother taught me this approximately 1954…

 

Did you ever think when a hearse went by

That someday it may be you and I.

We'll travel down that self-sane road

with never a thought of coming back.

 

They'll nail you in a pine board box

cover you over with dirt and rocks.

The worms crawl in, the worms crawl out

They'll crawl all in and out your snout.

 

Your eyes fall out and your teeth fall in

The bugs play pinochle on your chin.

 

Here is a nicer one that she also taught me…

 

Did you ever think as the hearse rolled by

That it wont be long until you and I

will go out riding in that big planked hack

and will never remember coming back.

 

Did you ever think in your thirst for gold

that in a dead mans hand, can't a dollar hold?

You can lie and cheat and strive and save,

but you loose it all when you get to the grave.

 

Now it's better by far this very day

to send some soul a cheap bouquet

than bushels of roses, white and red,

to strew on his coffin after he's dead.

 

You come into this world naked and bare,

without a trouble, without a care.

When you leave it to go – you know not where –

If you've been alright here, you'll be all right there.
Many thanks to Richard Smith for sharing these versions of The Hearse Song.

Image: "Gran calavera eléctrica" (Grand electric skull) by José Guadalupe Posada
This article was posted on Monday, July 9th, 2012 at 10:40 am and is filed under American Kids Songs, Arts and Crafts, Children's Songs, Countries & Cultures, England, English, English Children's Songs, Halloween, Halloween Songs, Holiday Songs, Holidays Around the World, Illustrations, Languages, The Hearse Song, USA. You can follow any responses to this entry through the RSS 2.0 feed. You can skip to the end and leave a response. Pinging is currently not allowed.
6 Responses to "The Hearse Song – 2 More Versions"
Leave a Reply