Recipe for Worms in Dirt
October 28th, 2013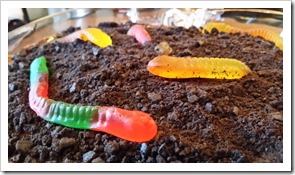 This past weekend we made a fun dessert called "Worms in Dirt".  It's easy to make for Halloween or Earth Day. Here's how…
Recipe for Worms in Dirt

2 Packages of Instant Chocolate Pudding (our pudding recipe called for 4 cups of Milk)
Gummy Worms
Crumbled Oreos (or plain chocolate cookies)

1. Prepare the pudding according to the packet directions.

2.  Mix in some gummy worms. (Leave a few out to decorate the top of the pudding.)

3. Crumble chocolate cookies.  You can do this by putting some cookies in a Ziploc bag and "rolling" over it with a rolling pin.

4. Scatter the crumbled cookies around the top of the pudding and decorate with some gummy worms.
It's easy peasy!
Thanks to Kimberly for sending a similar version of this recipe a few years back.
Enjoy!
-Mama Lisa
This article was posted on Monday, October 28th, 2013 at 11:19 am and is filed under Countries & Cultures, Earth, Earth Day, Earth Day Recipes, Halloween, Halloween Recipes, Holiday Recipes, Holidays Around the World, Recipe for Worms in Dirt, Recipes of the World. You can follow any responses to this entry through the RSS 2.0 feed. You can skip to the end and leave a response. Pinging is currently not allowed.
Leave a Reply