Chinese New Year
February 3rd, 2011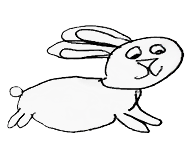 Today is the start of the Chinese New Year. It's the Year of the Rabbit.
Below you can read some articles about the Chinese New Year.
Thanks to Lila for the rabbit sketch!
Happy New Year!
Mama Lisa
This article was posted on Thursday, February 3rd, 2011 at 10:01 pm and is filed under China, Chinese, Chinese New Year, Countries & Cultures, Holidays Around the World, Japan, Languages, Mama Lisa. You can follow any responses to this entry through the RSS 2.0 feed. You can leave a response, or trackback from your own site.
Leave a Reply