Recipe for Chinese Almond Cookies
February 4th, 2019
Chinese Almond Cookies are great to make for the Chinese New Year and other Chinese holidays. It's very easy! Here's the recipe…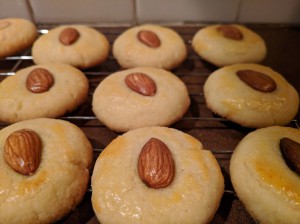 Recipe for Chinese Almond Cookies
(Makes 48)
Ingredients
2 1/2 cup All-Purpose Flour (325 g.)
1/2 cup Almond Flour (50 g.)
1 cup Sugar (220 g.)
3/4 teaspoon Baking Powder
1/2 teaspoon Salt
1 cup Butter at room temp (226 g.)
3 teaspoons Almond Extract
1 Egg
48 Almonds or Sliced Almonds
For the Glaze
1 Egg Yolk
1 teaspoon Milk
Preheat Oven to 335 F (170 C)
1. Sift the all-purpose flour, almond flour, sugar, baking powder and salt. Then mix it all together in a large mixing bowl.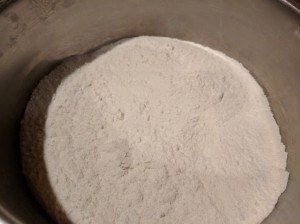 2. Cut up the butter into small pieces and mix in with the flour mixture. I started it with a hand mixer and then finished by hand. If you squeeze it together with your fists it gets combined very quickly. The final texture is like clumpy sand.
3. Add in the whole egg and almond extract. Mix it again with the hand mixer and finish mixing it with your hands. Form it into a big, smooth ball.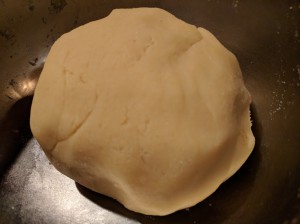 4. Take a melon baller or by hand make 1 – 1 1/4 inch (2.55 – 3.2 cm) balls with the dough. Place them on a cookie sheet about 2 inches (5 cm) apart.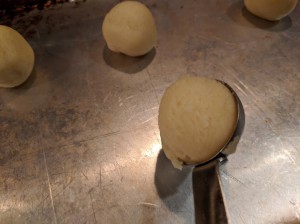 5. Gently press down on each ball with a glass cup or the palm of your hand. They should each be about 1/3 inch (.85 cm) thick.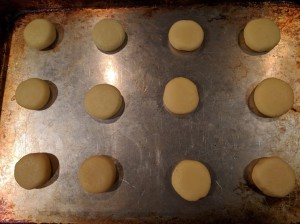 6. Gently press an almond or an almond slice into each cookie.
7. Mix together the egg yolk and a teaspoon of milk. Brush the mixture over each cookie.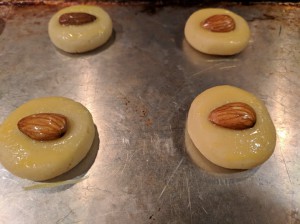 8. Place in oven and cook for 12 – 14 minutes until golden brown.
9. Let cool on a rack.
10. Store in a tin. Tins keep cookies fresh longer.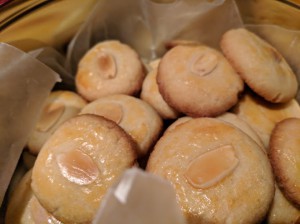 Enjoy!
Mama Lisa
This article was posted on Monday, February 4th, 2019 at 2:43 am and is filed under China, Chinese Cuisine, Chinese New Year, Chinese New Year Recipes, Cookies, Countries & Cultures, Cuisine, Desserts, Holiday Recipes, Holidays Around the World, Hong Kong, Mama Lisa, Recipe for Chinese Almond Cookies, Recipes of the World, Taiwan, USA. You can follow any responses to this entry through the RSS 2.0 feed. You can skip to the end and leave a response. Pinging is currently not allowed.
Leave a Reply