Chinese New Year – Lucky Symbols
February 15th, 2011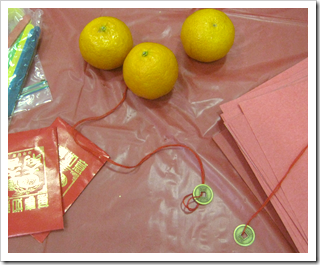 Yesterday, I helped at a Chinese New Year event at my daughter's school. 
Red is a lucky color in China. Nane, the mother who ran it, had all of the helping Mom's wear red. The tables were all decorated with red tablecloths.
Oranges were placed around the room for decorations – like centerpieces on the tables.  Oranges are an important symbol for the Chinese New Year.  The shape of them is round which symbolizes coins = money = prosperity.
Nane put lucky Chinese coins on red string and tied them for everyone to wear as a necklace.  The coins tied with red string are a symbol of financial prosperity.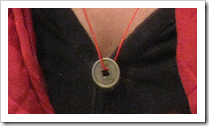 The Chinese symbols on the coins reflect the reign of the dynasty that was in power when the original coins were created.  These are copies of the original coins.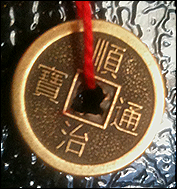 The square in the center of the circle of the coin is symbolically important.  The square symbolizes the energy of earth while the round symbolizes heaven.  When a person wears it, it brings the ultimate luck.  It's a trinity: heaven, earth and man.  The three together are important and that's why Chinese people feel multiples of three are lucky.
These coins are also supposed to ward off danger and sickness.  Some parents in China put a coin on a string for a child to wear, adding a new one at each birthday.  It's supposed to keep the child from danger.  Sick people are given these coins on red string to ward off illness and death. 
The kids also were given red envelopes or packets.  These are for luck too and to ward off evil.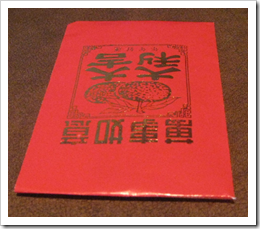 Please share any lucky symbols you know in the comments below.
Happy Chinese New Year!
Mama Lisa
This article was posted on Tuesday, February 15th, 2011 at 6:20 pm and is filed under China, Chinese, Chinese New Year, Coins for Good Luck, Countries & Cultures, Customs and Traditions, Folk Lore, Good Luck, Good Luck Colors, Good Luck Numbers, Holidays Around the World, Languages, Superstitions. You can follow any responses to this entry through the RSS 2.0 feed. You can skip to the end and leave a response. Pinging is currently not allowed.
Leave a Reply