Yuan Xiao and the Lantern Festival in China
April 16th, 2007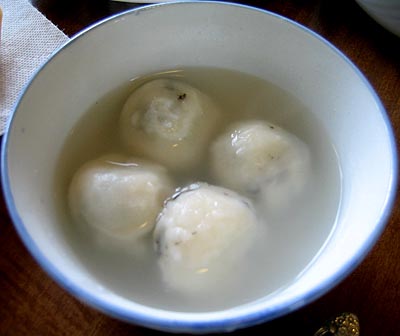 Yuan Xiao is a traditional food for the Lantern Festival in China. The Lantern Festival is at the end of the Chinese New Year celebrations. People go outside with lanterns, watch the dragon dance, set off firecrackers, and they eat Yuan Xiao. (Yuan Xiao is also called Tang Yuan.)
There's a sweet version and a salty one. The sweet version is made of sticky rice wrapped around black jasmine, white jasmine or peanuts with sugar. Sometimes there's something else like fruit inside.
Recently, Hanchao, a woman from China who lives in my neighborhood, treated me to a luncheon that featured Yuan Xiao. Xuemei (also from China) was there, as was Rae from Taiwan.
Hanchao made Yuan Xiao with black sesame paste, and Xuemei made it with red beans. Both were wonderful to taste!
I mentioned how I would love to share the recipe for Yuan Xiao with my readers.
The ladies told me they don't have cookbooks in China like we have in the West. Recipes are passed on from mother to daughter, from sister to brother and from friend to friend. They were amazed at how we have such precise measurements in our recipes and how we can duplicate the exact same recipe each time. They teach each other recipes by cooking the meal together.
Hanchao said she would try to write down her recipe for us. Here is what she sent me…
Hanchao's Yuan Xiao Recipe

3 cups sticky rice flour
1 1/2 cups chopped black sesame seeds
1/2 cup sugar

The black sesame seeds that I bought were fresh. You can put the sesame seeds on a cookie sheet in the oven on 375 F. Stir a few times while cooking. Cook until it tastes good – about 30 minutes.

Mix chopped sesame with sugar in a blender until smooth. This is the filling. Set aside.

Put 1 – 2 cups of water into the sticky rice flour and mix to make the dough. You can use up to a total of 3 cups of water. Add the water slowly, because if you add to much, it will be too gooey – in which case you can add more flour. You want it to be smooth like pie dough or playdough.

Shape the dough of the sticky rice into half balls, put a teaspoonful of filling into the half ball. Close the half ball to form a full round ball and smooth out it by rolling it between your hands.

Put the Yuan Xiao into boiling water. Cook until all the Yuan Xiao float on the surface of the water. Cook for 30-60 minutes. Serve in the water it's cooked in, like a soup.
Some people will serve Yuan Xiao in a sweetened broth. I asked Hanchao about this and she said she only uses water.
Yuan Xiao (Tang Yuan) are a symbol of family unity and happiness. People serve them to their family on the last day of the Chinese New Year celebration. It's a symbol that the family will be happy and complete in the upcoming year.
Many thanks to Hanchao for sharing her recipe for Yuan Xiao with us!
Here are some links for other recipes:
Taiwanese Tang Yuan in an Egg Drop Soup
A Recipe for Pork Tong Yuen and one for Black Sesame Seed Paste Tong Yuen
Recipe for Glutinous Rice Balls with Salted Egg Yolk and Peanut Filling
This article was posted on Monday, April 16th, 2007 at 10:18 pm and is filed under China, Chinese, Chinese Cuisine, Chinese New Year, Countries & Cultures, Cuisine, Customs and Traditions, Desserts, Holidays Around the World, Hong Kong, Languages, Lantern Festival, Mandarin, Recipes of the World, Taiwan, Tang Yuan, Winter Solstice, Yuan Xiao. You can follow any responses to this entry through the RSS 2.0 feed. You can skip to the end and leave a response. Pinging is currently not allowed.
5 Responses to "Yuan Xiao and the Lantern Festival in China"
Leave a Reply