The Chinese Year of the Monkey
February 1st, 2016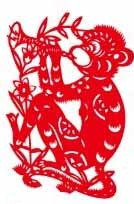 The Chinese New Year begins on February 8th this year. It will be the Year of the Monkey.
There are 12 animals in the Chinese zodiac and the Monkey is the 9th animal.  Every 12 years it's the year of the monkey.
There are also 5 elemental signs given to each year. They are Gold (Metal), Water, Wood, Fire, or Earth. This is the year of Fire.  The color of "Fire" is Red. So it's the year of the Red Monkey – or the Red Monkey Year.
The Chinese New Year is celebrated in Japan, Korea and Vietnam too. The zodiac is also used by those cultures. Though in some cases the animals are slightly different.
Happy Year of the Red Monkey!
Mama Lisa
Image: Year of the Monkey 2016 Paper Cutting Chinese Zodiac Vector
This article was posted on Monday, February 1st, 2016 at 8:05 pm and is filed under China, Chinese New Year, Countries & Cultures, Holidays Around the World, Hong Kong, Japan, North Korea, South Korea, Vietnam. You can follow any responses to this entry through the RSS 2.0 feed. You can skip to the end and leave a response. Pinging is currently not allowed.
Leave a Reply