"Sending off the Kitchen God Day" is on January 23nd
January 19th, 2006
A week before the Chinese New Year people burn the Kitchen God.
The Kitchen God is called Zao Jun. It is thought that he is sent from Heaven to watch over the family throughout the year. He is also said to have invented fire. He's present in the kitchen in the form of a picture, or a banner with the Chinese symbol that represents him in gold.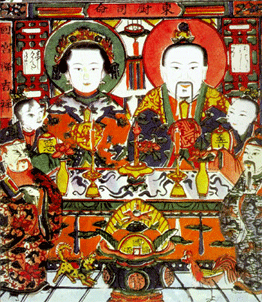 When the Kitchen God is burned it is said that the smoke from the burning paper sends him to heaven. Once there, he reports to the Jade Emperor, who is the highest god in Taoism. He'll report to the Jade Emperor about the moral behavior of the family, whether good or bad.
Before the family burns the image or symbol of the Kitchen God, they offer him sweets as a bribe to say nice things about them. They also smear his lips with sugar or honey to either sweeten what he says, or to make his lips stick shut so that he won't say anything at all!
A new Kitchen God is placed in the kitchen on the first day of the New Year.
Happy Sending off the Kitchen God Day!
Lisa
This article was posted on Thursday, January 19th, 2006 at 6:40 pm and is filed under China, Chinese, Chinese New Year, Countries & Cultures, Holidays Around the World, Hong Kong, Languages, Sending off the Kitchen God Day, Taiwan, The Kitchen God. You can follow any responses to this entry through the RSS 2.0 feed. You can skip to the end and leave a response. Pinging is currently not allowed.
One Response to ""Sending off the Kitchen God Day" is on January 23nd"
Lisa Says:
January 30th, 2006 at 11:59 am

I spoke with a lady at a restaurant in New York who grew up in southern China. She said her restaurant (in NY) has a Kitchen God that they burn, but that they replace it the same day. Which is different than what I've read about. I thought you put a new image of the Kitchen God in the kitchen once the New Year begins.

She also said it costs money, I think because she burns other things too, although she was unclear why it would cost money.

If anyone knows more about the tradition of burning the Kitchen God, and putting a new image of him back in the kitchen, please comment!
Leave a Reply