Recipe for Indonesian Nastar Cookies
December 26th, 2017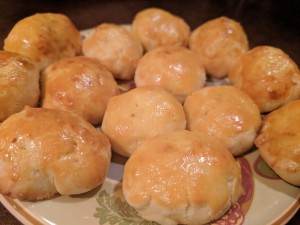 Indonesian Nastar Cookies have delicious pineapple inside.   These cookies are eaten for Natale (Christmas), the Chinese New Year and Lebaran (Eid al-Fitr). They're also eaten in Malaysia and Singapore.
Lin wrote the following about them from Indonesia:
"Made from a flour and butter mixture and filled with chunky pineapple jam. An egg yolk and milk mixture is then glazed over it before it's baked. Usually, Nastar comes in a dome or leaf shape. Nowadays many modifications have been made, such as Cheese Nastar, Chocolate Nastar, and many more…"
I won't lie… Nastar cookies are difficult even for Indonesian people to get exactly right. If you'd like to try to make them, here's my recipe along with some tips sent to me by Lin. I recommend making the pineapple jelly at least a day in advance so it can fully cool off and congeal.
Nastar Pineapple Cookies
Ingredients for the Pineapple Jam
2 Pineapples
1 Cinnamon Stick
1/2 cup (120 g) Granulated Sugar+
Dash Salt
1/2 teaspoon Cinnamon Powder (Optional)
2 – 4 Cloves (Optional)
Lemon (Optional, use if the pineapple is too sweet)
Ingredients for the Cookie Dough
3 1/4 cup+ (450 g) All-Purpose Flour
2 T. Cornstarch
1/4 t. Salt
1 oz. (30 g) Grated Gouda Cheese
2 Sticks (226 g) Butter, softened
1/2 t. Vanilla Extract
6 Egg Yolks
3/4 cup (150 g) Powdered Sugar
Ingredients for Egg Wash
1 Egg Yolk
1 T. Milk
Directions for Pineapple Jam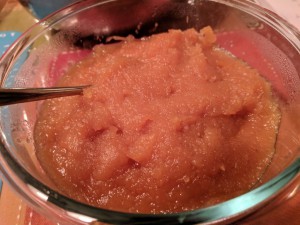 1. Remove outside skin and core the pineapple. Cut it into chunks. Place in a food processor and puree.
2. Put the pineapple puree, sugar, cinnamon stick, salt and cloves (if using) in a saucepan over medium heat. Cook until the liquid is adsorbed and it's a thick consistency. (This can take an hour or more.) Stir occasionally.  You can add a little freshly squeezed lemon juice if it becomes too sweet. You can slowly add more sugar if it's not sweet enough. You can also add cinnamon powder for more flavor if desired.
3. Once the pineapple puree has thickened, let it cool. Place in a container in the refrigerator overnight. A little excess liquid might rise to the surface overnight. You can drain it off into the sink.
Directions for Cookie Dough
1. Sift together the flour, cornstarch and salt.
2. In a separate bowl cream the butter with a hand mixer.
3. Add the confectioner's sugar to the butter and blend.
4. Add the egg yolks and vanilla and blend.
5. Grate the Gouda cheese with a small hand grater (like you'd use for Parmesan cheese). Add the grated cheese to the butter mixture and blend.
6. Slowly add the flour mixture to the butter mixture. Eventually you may need to knead it by hand to get it well blended. You can add additional flour by the tablespoonful to get a smooth consistency.
7. Split the dough into two ball shapes. Cover and refrigerate for 1/2 hour or until cool.
To Assemble the Cookies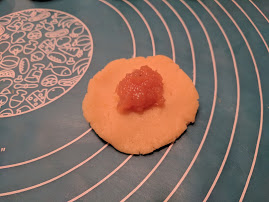 1. Remove the pineapple jam and one ball of dough from the refrigerator. Preheat the oven to 320 F. (160 C.)
2. Roll the dough into 1 – 1 1/4″ (2.5 – 3 cm) balls.
3. Make  a depression with your thumb into the dough and put about 1/2 t. of the pineapple jam inside it. If you find it easier, you can flatten out the ball and then add the jam. Close the dough up around the  jam forming a seam while trying to form the dough back into its round shape.
4. Place on a cookie sheet lined with parchment paper. Continue to fill and shape the dough in the same way, placing the cookies about 2″ (5 cm.) apart.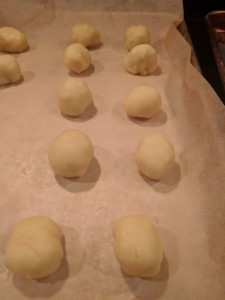 5. Mix together the egg yolk and tablespoon of milk to make the wash. Using a pastry brush wash the egg milk mixture over each cookie.
6. Bake in the oven for about 15 minutes until golden. Let sit for a couple of minutes. Then let them cool on a baker's rack.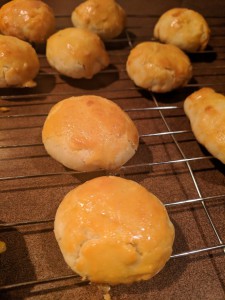 Enjoy!
Lin wrote, "Nastar is a bit tricky in the making. Many of my friends weren't satisfied with their first Nastar cookies. Some weren't soft enough, some didn't shape round enough. Try to bake 1 cookie first, see if the result is good. I found this I article below (originally in Bahasa Indonesia)…"
Some Tips for Making Nastar
1. You can combine butter and margarine in a 1: 2 ratio. For example, use 50 grams of butter, for 100 grams margarine. The result will be crunchy when bitten and soft/melting in the mouth!
2. Don't knead the dough by hand too long. The critical moments in baking cookies are stirring the dough. Sometimes we love to stir the dough for too long. This is what often makes the cookie too hard, without realizing that hand temperature could melt the butter in the dough. Try to stir the dough using a spatula.
3. Too much pineapple jam.
Make sure the size of pineapple jam is less than the pastry dough. First, round the pineapple jam into a ball. Round the nastar batter larger than the pineapple jam, then wrap the pineapple jam ball with the nastar batter. This process must be done quickly so that the dough isn't in our hands too long.
4. Applying the egg yolk
In order to look shiny and yellow, do two stages of polishing. First, brush a little on before putting into the oven. When half-baked, then apply again entirely. Bake again until cooked and tadaa, the nastar cookie will look yellow and shiny.
5. Too high temperature.
Check the temperature of the oven. In general, it only takes 150-160° C (300 – 320 F.) to cook perfectly with a soft texture.
   ———
"I hope it will help. Nastar is a trial and error cookie, it depends on the combination of butter, margarine, and the thickness of the pineapple jam we make. My friends here sometimes have similar nastar baking issues too." -Lin
Thanks so much to Lin for advising us about making Nastar Cookies! -Mama Lisa
This article was posted on Tuesday, December 26th, 2017 at 8:37 pm and is filed under Chinese New Year, Christmas, Christmas Cookies, Christmas Recipes, Cookies, Countries & Cultures, Desserts, Eid'l Fitr, Holiday Recipes, Holidays, Holidays Around the World, Indonesia, Indonesian Cuisine, Lebaran, Mama Lisa, Nastar Cookies, Recipes of the World. You can follow any responses to this entry through the RSS 2.0 feed. You can skip to the end and leave a response. Pinging is currently not allowed.
3 Responses to "Recipe for Indonesian Nastar Cookies"
Lisa Says:
December 26th, 2017 at 8:43 pm

Lin wrote, "My family (aunts, cousins) make kaastengels, nastar cookies, etc., but rarely at Idul Fitri … lol. There are too many tasks anticipating the Day, including making traditional meals such as ketupat, rendang, chicken opor etc. Fortunately there are many variety of delicious Kaastengels and other cookies ready to be bought."

Lisa Says:
December 26th, 2017 at 8:45 pm

Lin also wrote the following:

"When making Nastar cookies, may I suggest using Wijsman (very recommended, Wysman creamery butter is preserved through the addition of extra salt, it has a rich, cheese-like taste), Hollman Butter, or Golden Churn for butter.

I found this link, which also has recipes for pineapple fillings for Nastar cookies, either from fresh or canned pinneapple fruits…"

Unfortunately, the types of butter Lin mentions are very expensive to buy in the US. I used regular butter.

Lisa Says:
March 17th, 2018 at 6:12 pm

As we've said, these cookies are eaten in Indonesia for the Chinese New Year (called Imlek). Here's what Lin wrote about it:

When celebrating Imlek/Chinese New Year, it's hardly any different from pastries for other holidays like Idul Fitri or Natal. Kaastengels, Nastar, Sagu-Keju, Semprit, Almond cookies, etc. are few of the usual cookies present besides other cakes and pastries. Some cookies, like nastar cookies, usually are shaped to be prettier, like basket, stars and flowers shapes. (See pic here.)

Actually the cookies, cakes and other pastries should have various blend of flavors: sweet, sour, savory, crunchy and soft. The blend of taste is a symbol of the diversity of life that will be faced in the new year.

Usually during January and February each year, malls and other stores already have Imlek festive decorations and people enjoy the Barongsay dance, traditional Chinese arts (paintings, music etc.), martial art exhibitions along with traditional Chinese percussion etc. almost everyday there. Traditional Chinese candy made of dried fruits (plums etc.) are my favorites. The main and biggest celebrations are held at major Chinese temples, and the Barongsay parades become tourist attractions, locally and internationally.

Cheers,
Lin
Leave a Reply