Recipe for Green Tea Matcha Cookies
December 20th, 2017
"Japanese people like the taste of Green Tea Cookies for any occasion, though not any specific holidays. They're flavored with green tea powder and are very common." -Ayako Egawa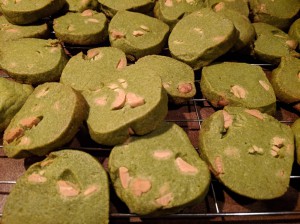 I had asked Ayako if they eat any cookies in Japan for any holidays. It seems there aren't really any cookies that are eaten for specific holidays. But Green Tea Matcha Cookies (抹茶クッキー) are very common and are enjoyed all year long.
I made them and they're yummy. You can adjust the amount of Green Tea Matcha powder you put in them. In general, men seem to like them stronger tasting than women.
Here's the recipe…
Green Tea Matcha Cookies 抹茶クッキー
(Makes 35 Cookies)
Ingredients
2 Sticks (226 g) Butter, softened
3/4 cup (140 g) Sugar
2 Tablespoons Matcha Powder
2 1/4 cups (300 G) All-Purpose Flour
3 Egg Yolks
Pinch of Salt
1/4 – 1/2 cup White Chocolate Chips (Optional)
1. Sift together the matcha powder and the flour.  Add in the salt and mix it all together.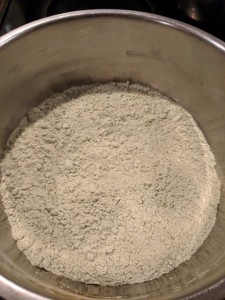 2. In a separate bowl, beat the butter with a hand mixer until creamy.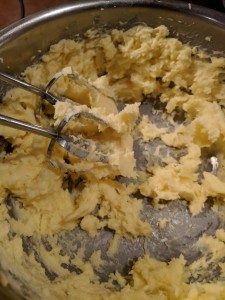 3. Add in the eggs and blend together.
4. Add in the sugar and blend together.
5. Slowly add in the matcha/flour mixture. Eventually you may need to knead it by hand.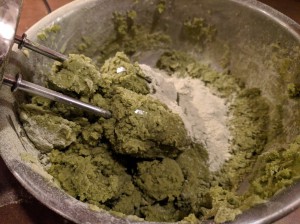 6. Once it's fully blended together and smooth, make the dough into a ball and divide in half.
7. Shape each half of the dough into a log that's 1 1/4 – 1 1/2″ inch wide (3.5 cm).
8. Wrap each log in plastic wrap and put in the refrigerator until chilled, about an hour.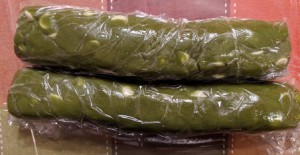 9. Preheat the oven to 355 F (180C) and line cookie sheets with parchment paper.
10. Take out the logs of dough. Cut them into slices that are 1/3″ thick (.4 cm).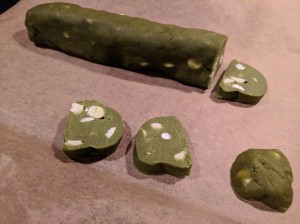 11. Place the cookies on the cookie sheets leaving at least an inch (2.5 cm) in between each cookie.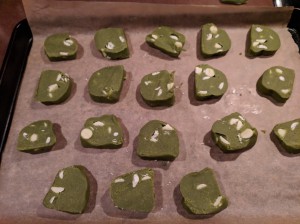 12. Place in the oven and bake for 15 – 20 minutes until golden brown.
13. Store in a cookie tin to keep them fresh longer.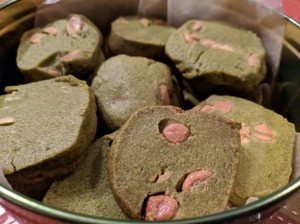 Note: Instead of making these round, you could roll out the dough and use tree or leaf-shaped cookie cutters. Perhaps they could even be made for Arbor Day.
Enjoy with some green tea!
Mama Lisa
This article was posted on Wednesday, December 20th, 2017 at 1:59 am and is filed under Cookies, Countries & Cultures, Cuisine, Desserts, Green Tea Matcha Cookies, Japan, Japanese Cuisine, Mama Lisa, Recipes of the World. You can follow any responses to this entry through the RSS 2.0 feed. You can skip to the end and leave a response. Pinging is currently not allowed.
Leave a Reply