How to Make Natural Brown Food Coloring (Cooking Science)
February 4th, 2011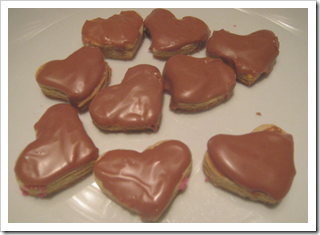 There's a science lesson in making natural brown food coloring.  I recently wrote about creating natural red food coloring from the water made from cooking beets.  Once you make red food coloring from beets it's easy to get brown.
Here are the basics to making red food coloring:
Peel about 3 beets and chop them up into chunks.  Then put them in a pot with enough water to just cover the beets.  Bring to a boil and then simmer till soft when pricked with a fork.  Put the beet water to the side to use for food you want to tint.
Look at the red-tinted water below beets make…
Betanin is the dye that comes from the beets.  It's susceptible to changes in pH.  That means that it changes color if its made more acidic or alkaline.  When you add an alkaline like baking soda to beet water it turns brown.  Baking soda has a mild alkalinity in it that neutralizes the acids in the beet water. 
I got brown food coloring by adding baking soda to beet water.  Here's how:
After you take the cooked beets out of the beet water add a little baking soda and cook for a minute or two.  It turns the liquid brown. 
To make brown icing for sugar cookies:  Mix 1 cup of confectioners sugar with 1 T. + 1 t. of the brown beet water.  You can add more liquid if it needs it.  Add vanilla or almond extract for flavoring if desired.  Mix until smooth.
Ice sugar the cookies.
Here's a photo of my brown icing…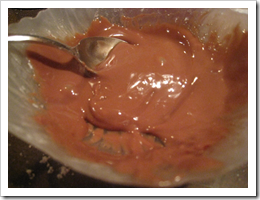 The icing looks a bit like chocolate.  If you want a chocolate flavor you can simply make chocolate icing.
Here's how to make a lighter brown glaze…
Light Brown Glaze
Light brown is a good color to make sugar cookie gingerbread men look brown like real gingerbread men!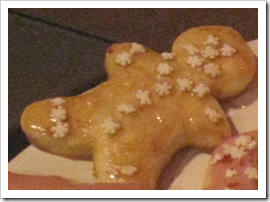 I made the glaze mixing honey, powdered sugar, cinnamon and little water to get this color.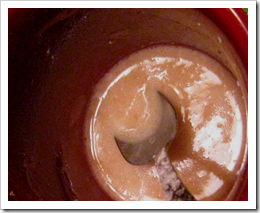 They tasted great too!
Hopefully this gives you some ideas for making naturally dyed brown icing for sugar cookies.
Enjoy!
Mama Lisa
This article was posted on Friday, February 4th, 2011 at 8:44 pm and is filed under Cookies, Cooking Science, Cooking with Kids, Decorating Cookies, Decorating Cookies, Desserts, Making Natural Brown Food Coloring, Making Natural Red Food Coloring, Natural Food Coloring, Parenting, Recipes of the World, Science, Sugar Cookies. You can follow any responses to this entry through the RSS 2.0 feed. You can skip to the end and leave a response. Pinging is currently not allowed.
5 Responses to "How to Make Natural Brown Food Coloring (Cooking Science)"
Leave a Reply