How to Create Natural Pink Food Dye
February 5th, 2011
Recently, I explained how to make red and pink food coloring using beets.  Another way to make pink is to use blueberry juice.  To make icing for sugar cookies, you simply mix blueberry juice, confectioners sugar and water.
The basic measurements for sugar cookie icing is:

1 cup of confectioners sugar
1 T. + 1 t. of Liquid (In this case blueberry juice and water)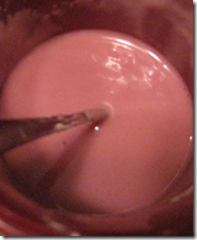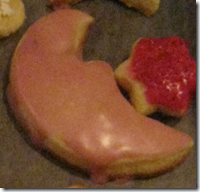 Icing made with Blueberry Juice
You can use more water in the mix if you want it a paler shade or less water for a darker shade of pink.
Enjoy!
Mama Lisa
Leave a Reply