MY MOTHER. – A Poem
April 30th, 2009
Mother's Day is celebrated in May in many countries around the world.  Here's a poem called "My Mother" from a publication called Spring Blossoms…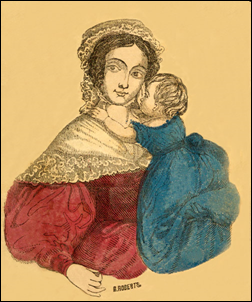 MY MOTHER.
In infancy's unconscious day,
I weak and helpless long did lay,
Who o'er my form did watch and pray,
My Mother.

Who nourished me with fondest care,
And bore me forth to take the air,
And plucked me fruits and flowers rare,
My Mother.

Who daily, as I older grew,
Still taught me lessons bright and true,
And virtue's path kept in my view,
My Mother.

Oh, may I truly, every year,
Return with love and tender care,
The blessings I from thee did share,
My Mother.
Here are some other posts about Mother's Day, including other poems:
Happy Mother's Day!
Mama Lisa
This article was posted on Thursday, April 30th, 2009 at 11:09 am and is filed under Countries & Cultures, English, Holidays Around the World, Languages, Mother's Day Poems, Mothers Day, Poems, Poetry, USA. You can follow any responses to this entry through the RSS 2.0 feed. You can skip to the end and leave a response. Pinging is currently not allowed.
16 Responses to "MY MOTHER. – A Poem"
Leave a Reply