Poems and Songs for Mothers Day
April 22nd, 2010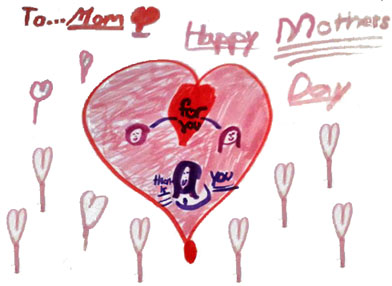 Here are links to posts we've done about Mothers Day, including poems and songs from around the World…
Thanks to Lila for the great drawing!
Mama Lisa
This article was posted on Thursday, April 22nd, 2010 at 5:47 pm and is filed under English, Holiday Songs, Holidays Around the World, Languages, Mama Lisa, Mother's Day Poems, Mothers Day, Mothers Day Songs, Poems, Spanish. You can follow any responses to this entry through the RSS 2.0 feed. You can skip to the end and leave a response. Pinging is currently not allowed.
One Response to "Poems and Songs for Mothers Day"
Positive Quotes Says:
October 5th, 2019 at 7:35 pm

Your children are not your children. They are the sons and daughters of Life's longing for itself. They came through you but not from you and though they are with you yet they belong not to you. – Khalil Gibran ( Poet ).
Leave a Reply