Mother's Day in France
May 21st, 2020
Mother's Day is celebrated  in France in a similar way to many other countries.  People visit theirs moms and bring flowers, and perhaps even make a nice dessert! At the very last people will call their mom to wish them a Happy Mother's Day saying, "Bonne fête, Maman!"
In 1896, and again in 1906, there were efforts in France to honor mothers who had a lot of children. The idea was to encourage families to have more kids since the birthrate was falling.
Then during WWI, members of American relief organizations in France spread the idea of Mother's Day. The soldiers would send home postcards for the holiday. In fact, a whole industry flourished making postcards for soldiers. One type of postcards was embroidered messages on silk made with an embroidery machine.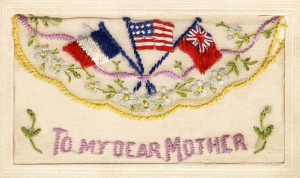 In the 1920's, the effort was revived in France to especially celebrate mothers and fathers of large families. Medals were even given to the mothers.
In 1950, a law was passed to celebrate Mother's Day every year on the last Sunday of May, unless that day is the Pentecost, in which case it's celebrated on the 1st Sunday in June.
Bonne fête des mères!
Read more About WW1 Embroidered Silk Postcards.
Leave a Reply