Does Anyone Know the Finnish Version of the Song "Piikkisika Porcupine"?
May 27th, 2020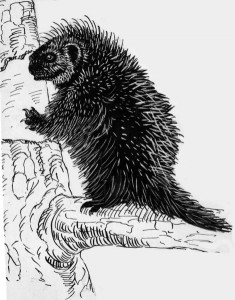 "Piikkisika Porcupine" was sung by Finnish immigrants in some northern US states including Michigan, Minnesota and Wisconsin. The word "piikkisika" actually means "porcupine" in Finnish. Some people Anglicized the spelling to make it "peek-a seek-a". Here are the lyrics…
Piikkisika Porcupine
Pikkisika porcupine
I can see you hiding in the Norway pine
I take my shotgun and shoot you down
Pikkisika porcupine!
Steve Klund wrote, "My grandparents sang it both ways and I was very young when they were alive but other relatives all sang in English. My grandparents grew up with Finnish as a primary language."
Would anyone know the Finnish version of this song? If so, please comment below or email me with any info.
Thanks in advance! -Mama Lisa
*****
UPDATE: We asked MAE KaBi, who is from Finland, if she knows the song. Here's her response:
"I do not know the song. The melody sounds Finnish but I do not know any Finnish lyrics for it.
However, here is my Finnish translation of the lyrics:
Piikkisika, piikkisika, porcupine,
Mäntypuuhun, mäntypuuhun piiloutuu, (Hides in a pine)
Haulikollani sinut ammun nyt, (I will shoot you now with my shotgun)
Piikkisika, piikkisika, porcupine.
I hope this helps,
MAE KaBi"
This article was posted on Wednesday, May 27th, 2020 at 2:05 pm and is filed under American Kids Songs, Children's Songs, Countries & Cultures, English, Finland, Finnish, Finnish Children's Songs, Languages, Questions, Readers Questions. You can follow any responses to this entry through the RSS 2.0 feed. You can skip to the end and leave a response. Pinging is currently not allowed.
7 Responses to "Does Anyone Know the Finnish Version of the Song "Piikkisika Porcupine"?"
Leave a Reply