Christmas Countdown – Santa Lucia in Scandinavia & Italy
December 5th, 2015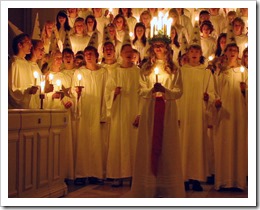 In Scandinavia, there's a beautiful celebration in December called Santa Lucia.  The celebration started in part of Sweden in the 18th century. It slowly spread to the rest of the country in the 19th century and to most of Scandinavia in the 20th century.
Traditionally, to celebrate Santa Lucia, girls walk in a procession dressed in white while singing a Santa Lucia Song. The oldest girl wears a wreath with candles on her head while other children carry candles.  It's a celebration of light at the time of year when the world is at its darkest.
You can watch a beautiful Santa Lucia procession in the video below…
Lyrics to the Swedish Sankta Lucia Song with an English translation
Learn more about Santa Lucia in Scandinavia and Italy, including recipes and songs…
Happy Santa Lucia Day!
Mama Lisa
Image: "Lucia-13.12.06" by Claudia Gründer, cc.
This article was posted on Saturday, December 5th, 2015 at 10:03 pm and is filed under Countries & Cultures, Denmark, Finland, Holiday Recipes, Holiday Songs, Holidays Around the World, Italy, Norway, Recipes of the World, Santa Lucia, Santa Lucia Recipes, Santa Lucia Songs, St. Lucia's Day, Sweden. You can follow any responses to this entry through the RSS 2.0 feed. You can skip to the end and leave a response. Pinging is currently not allowed.
One Response to "Christmas Countdown – Santa Lucia in Scandinavia & Italy"
The Swedish Chef Celebrates Santa Lucia's Day Says:
December 9th, 2015 at 4:12 pm

[…] more about Santa Lucia's Day, including a Santa Lucia […]
Leave a Reply