American Girl Dolls and Santa Lucia
January 10th, 2008
In an earlier blog post, I talked about a less expensive alternative to American Girl Dolls. My daughter and I call them "Me" Dolls. I feel that these dolls are good for kids since they can play with them without parents worrying about the dolls getting messy.
Today Ed Gawlinski wrote to me about what he feels are the benefits of the American Girl Dolls…
The American Girl dolls, at least before they were bought out by Mattel, were intended to be (or at least approach) "museum quality" in accuracy and workmanship. The dolls, clothes and accessories are intended to match one of the books associated with that doll. They are admittedly expensive. However, the books can be bought separately and they are (in my opinion) excellent books that I had enjoyed reading to my two daughters and listening to them reading the stories aloud to us. These were great opportunities to talk about American History and society.
I still get catalogues in the mail from them. In addition to buying clothes for the dolls you can buy matching clothes for the girls. That can be very expensive. However, it can also bring alive a period in American history for your child which is a very valuable learning experience. The cost of the doll, etc. can be useful in teaching your daughter how to take care of valuable property. Naturally, they should also have dolls and toys that they can treat more roughly, take outside and get dirty, etc.
I had been the director of a Saint Lucia performance for over twenty years. In the American Girls' book, "Kirsten's Surprise", Kirsten explains the Swedish Saint Lucia custom to her cousins, and they organize a Luciatag celebration. Over the years, many of the girls in my performance had a Kirsten doll, and we used these dolls in their Saint Lucia outfit or Swedish outfits to decorate our performance area. Occasionally, a girl would wear her Kirsten outfit as her costume.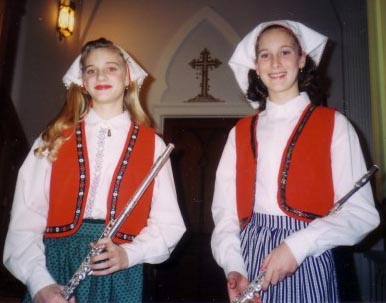 Hopefully, in four to six years, your daughter will start to enjoy reading the American Girls books and then will appreciate having one of the dolls to help bring the stories alive. I am happy to see that some entrepreneurs have taken the idea behind the American Girls dolls and come up with a less expensive alternative. I did know a number of my daughters' friends who destroyed theirs and that was unfortunate.
I am hoping that in ten to twelve years when my granddaughter is old enough to enjoy them, that American Girls dolls (etc.) will still be available in the stores. However, I do know that both of my daughters have kept their dolls and the books in excellent condition. They each had two dolls and over the years, they acquired (for Christmas and birthdays) a collection of outfits and accessories. They enjoyed getting outfits for their dolls even while they were in high school.
The girls portrayed in the books are strong role models for a little girl. I was very glad to be able to include these books in their library. One of the dolls, Molly, had a father who was serving in Europe during World War II. One of Molly's outfits included a flight jacket. The daughter who had this doll is now a second lieutenant in the U.S. Air Force, having graduated from the Air Force Academy last May.
I don't want to be a commercial for Mattel, but I am very glad to have been able to provide my daughters with these dolls and even more so, with the books.
-Ed Gawlinksi
Note: In the second photo above, the girls are in Swedish Costumes that their mothers made based on the one of the outfits worn by the Kirsten American Girl doll.
Many thanks to Ed Gawlinski for sharing his family's experiences with the American Girl Dolls with us! -Lisa
UPDATE: If you'd like to read another point of view, you can read a later post called One More Word about American Girl Dolls!
This article was posted on Thursday, January 10th, 2008 at 7:07 pm and is filed under American Girl Books, American Girl Dolls, Books & Stories, Countries & Cultures, Dolls, Gift Ideas, Holidays Around the World, Me Dolls, Parenting, Recommendations, St. Lucia's Day, Sweden, Toys, USA. You can follow any responses to this entry through the RSS 2.0 feed. You can skip to the end and leave a response. Pinging is currently not allowed.
7 Responses to "American Girl Dolls and Santa Lucia"
Leave a Reply