St. Lucia's Day in Sweden and Scandinavia
December 2nd, 2007
Santa Lucia's Day is celebrated on December 13th in Sweden, Denmark, Norway and Finland. It commemorates the life of Santa Lucia, who is also known as Saint Lucy.
St. Lucy was born in Syracuse, Sicily around 283 and died in 303 AD. The myth is that her parents wanted her to marry a man who she didn't want to marry. She wanted to devote her life to helping the poor. In protest against the marriage, she poked out her eyes and put them on a platter and sent them to the man. The legend is that her eyes were miraculously restored by God.
It's said that Saint Lucia blinded herself on the shortest, darkest day of the year, which is the Winter Solstice. Under the old Julian calendar, that day was December 13th. That's how St. Lucia's day came to be celebrated on the 13th. (Now, in the northern hemisphere, the Winter Solstice falls on the 21st or the 22nd.)
In Sweden, and other Scandinavian countries, Santa Lucia Day is seen as being the beginning of the Christmas season. It starts the Twelve Days of Christmas.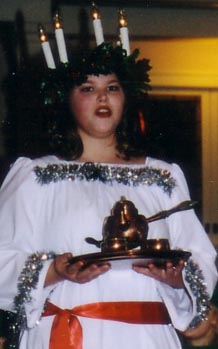 The tradition on Santa Lucia Day is for the oldest girl in the family to dress in a white robe with a red sash and wear a crown of candles and lingonberry leaves (lingonberries are popular berries in Sweden). She's supposed to be dressed as St. Lucia. The other girls dress in white with silver crowns. The boys wear pointed silver hats and carry wands with stars on them. They're called stjärngossar (star boys). Some kids dress up as tomtar which are like gnomes.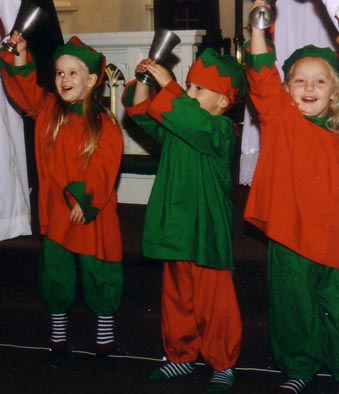 On the morning of Santa Lucia, the children in the family will often wake their parents with a breakfast of Lussekatter (a special St. Lucia bun made with saffron), ginger cookies, coffee and glögg (hot spiced wine). The kids will be dressed in their special Santa Lucia costumes and they'll sing Santa Lucia songs.
Throughout the day girls will be dressed as Santa Lucia in schools, malls, churches and other public places singing and handing out ginger cookies. There are also Luciatags – St. Lucia processions in which the children dress in their white costumes and sing St. Lucia Day songs.
St. Lucia Day songs coming soon!
Many thanks to Edward M. Gawlinski for the photos!
Come visit the Mama Lisa's World Sweden Pages for Songs from Sweden, including Swedish Christmas songs.
This article was posted on Sunday, December 2nd, 2007 at 10:55 pm and is filed under Countries & Cultures, Customs and Traditions, Denmark, Finland, Holiday Songs, Holidays Around the World, Languages, Norway, Saint Lucia Songs, St. Lucia's Day, Sweden, Swedish. You can follow any responses to this entry through the RSS 2.0 feed. You can skip to the end and leave a response. Pinging is currently not allowed.
5 Responses to "St. Lucia's Day in Sweden and Scandinavia"
Leave a Reply