Lazy
Children's Song
Children's Song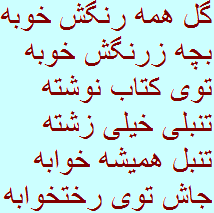 The flower in any color is good
The smart child is good
In the book has written
Laziness is very bad
The lazy always sleeps
His place is in the bed.
Notes
Transliteration
Tanbal

Gol hame rangesh khoobe
Bache zerangesh khoobe
Tooye ketab neveshte
Tanbali kheily zeshte
Taqnbal hamishe khabe
Jash tooye rakhtekhabe

"kh" like Spanish "j" or German "ch" in Bach.

Farsi is the name in Persian for the modern Persian language.
Comments
Here's the computerized text: (we apologize if it doesn't display properly on your screen):


تنبل
گل همه رنگش خوبه
بچه زرنگش خوبه
توی کتاب نوشته
تنبلی خیلی زشته
تنبل همیشه خوابه
جاش توی رختخوابه

Many thanks to Fatimah's niece Zahra for reciting "Lazy".
Thanks and Acknowledgements
Many thanks to Fatimah Baji for contributing, transliterating and translating this song.
Khay'ly Mo'teh'shaker'am!