Yalda – The Persian Winter Solstice Celebration
December 21st, 2012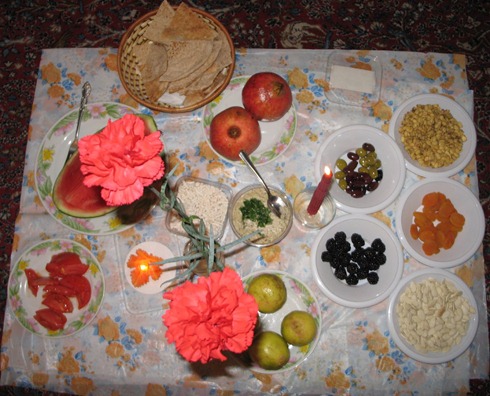 Fatima wrote yesterday from Iran, "It's Yalda night ceremony (the longest night of the year).  Iranian people eat nuts, walnuts, pomegranate, and watermelon for Yalda."
Yaldā is an ancient Persian Winter Solstice celebration. People used to stay up for most of the night to ward off misfortune.  Nowadays, families mainly gather together for a nice meal.  Fruits and nuts are usually part of the meal.
Thanks for sharing Fatima!
Mama Lisa
Photo: Wikipedia
This article was posted on Friday, December 21st, 2012 at 4:49 pm and is filed under Countries & Cultures, Customs and Traditions, Holidays Around the World, Iran, Languages, Persian, Seasonal, Symbolic Food, Winter, Winter Solstice, Yalda. You can follow any responses to this entry through the RSS 2.0 feed. You can skip to the end and leave a response. Pinging is currently not allowed.
Leave a Reply