The Traditional Haft-Seen Table Display for Persian New Year
March 25th, 2016
Nowruz (نوروز meaning "new day") is the Persian New Year. It starts on the vernal equinox, the beginning of spring in the Northern hemisphere.
One traditional aspect of Nowruz is called Haft-Seen (هفت‌سین the seven seens). It's a tabletop array of seven items that are displayed for the holiday.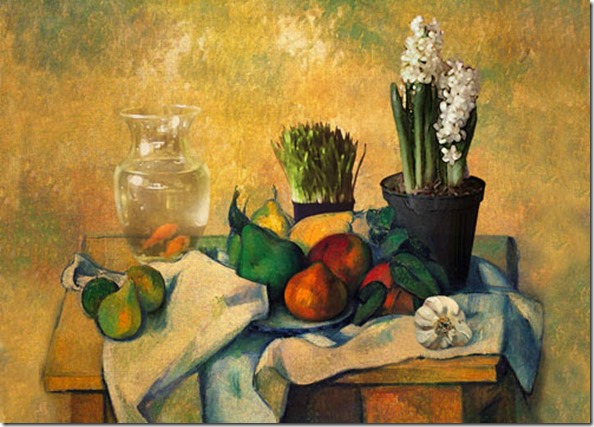 The seven items displayed are:
1. Sprouted wheat or other grains (grown to look like grass) – symbolizes rebirth.
2. Sweet pudding made from wheat germ – symbolizes affluence.
3. Dried wild olives – symbolizes love.
4. Garlic – symbolizes health.
5. Apple – symbolizes beauty.
6. Sumac – symbolizes the color of the sunrise.
7. Vinegar – symbolizes old age and patience.
Sometimes a goldfish in a bowl is part of the display. It symbolizes life.
Mehrdad Aref-Adib made digital composites of seven different famous paintings, adding in items of the Haft-Seen. You can see his beautiful composite using a Cezanne painting at the top of this article. Check out his page here to see more of his lovely images. You can also follow Mehrdad Aref-Adib on Twitter.
Many thanks to Mehrdad Aref-Adib for sharing his image with us!
Enjoy and Happy Nowruz!
Mama Lisa
Leave a Reply