Figolli – Maltese Easter Cookies (Recipe)
March 26th, 2016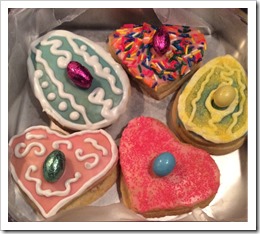 Figolli are traditional Easter cookies from Malta. They're typically made during the Lent season and given to family, friends and little ones on Easter. 
Figolli are similar to shortbread. They have an almond/marzipan filling and are finished off with colorful icing. Each figolla is decorated with a small candy Easter egg on top as a symbol of life.
In Malta the sizes of figolli can vary greatly. Some are very large. The ones I made are small and medium sized.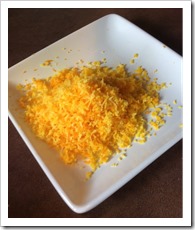 The shapes of them can vary too, though they're often Easter and Spring themed. You can decorate figolli with colorful sugar glazes and royal icing or simply melt chocolate and spread it over the top. Have fun decorating them!
Note about Lemon or Orange Zest/Juice: You can give figolli a lemon or orange flavor. Chose which type of zest and juice you'd like to use in the recipe.
Makes 8 Small Cookies (2 3/4") & 10 Medium Cookies (4")
Recipe for Figolli
Ingredients for Pastry
5 1/2 c. All-Purpose Flour, Sifted
3 sticks + 5 T. Butter 
2 c. Sugar, Sifted
4 Egg Yolks
Pinch of Salt
Zest of 1 Lemon or Orange
1/2 c.+ Ice Cold Water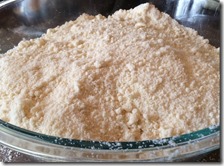 1. Sift the flour. Cut the butter into small pieces. Mix the butter into the flour with your fingers. It should end up like breadcrumbs. If you keep squeezing the butter into the flour and then break it up with your fingertips, you should be able to get the butter well-mixed with the flour.
2. Mix in the egg yolks, sugar, pinch of salt and zest. Then add enough cold water to get a stiff, but pliable dough. Separate the dough into two discs and cover each with plastic wrap. Refrigerate for half an hour, while you make the filling.
Ingredients for the Filling
1 3/4 c. Ground Almonds
1 1/2 c. Confectioners Sugar
1-2 capfuls of Orange Blossom Water (optional)
Zest of a Lemon or Orange (optional)
2 Egg Whites
1. Mix together the ground almonds, powdered sugar, orange blossom water and zest. Then add in the egg whites. Mix well.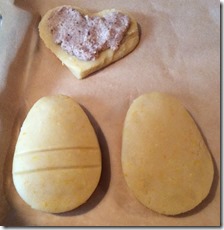 Assembly and Baking
Preheat the oven to 350F. Line 2 cookie sheets with parchment paper.
1. Lightly flour a clean surface and roll out the dough to about 1/8 inch. Then use a cookie cutter to make two of the same shapes. Put one shape on the lined cookie sheet. Put some of the almond filling on the cookie to 1/2" from the edge of the dough. Wet all around the edge of the dough with a dab of water with your finger. Then put the other cutout of dough on top. Gently press down the edges.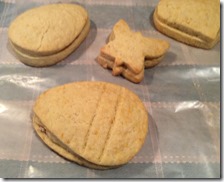 Assemble all of the cookies this way.
Cook for 25 – 30 minutes until golden.
Once the cookies are completely cooled off, you can decorate them.
Decorating with Icing
First you'll make a sugar glaze and spread it on the cookies.  Then you can decorate the cookies with royal icing, sprinkles and colored sugar.
Sugar Glaze
Ingredients for the Glaze
3 c. Confectioners Sugar, Sifted
Juice of a lemon or 1/2 orange (strained)
1T.+ Water
Food Coloring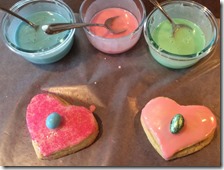 Little Chocolate Easter Eggs (wrapped in foil) or any small candy Easter eggs.
1. Sift the confectioners sugar. Add in the juice of the lemon or orange and water (1 tablespoon at a time). Mix until smooth. You should have a consistency that's fairly thick. It should be easily spreadable, but it shouldn't run down the sides of the cookies.
2. You can separate the glaze into 3 bowls and use food coloring to get the colors you like. I made pastel colors by mixing in only a drop of food coloring.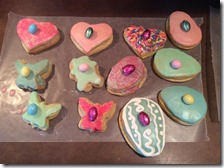 3. Glaze each cookie using only one color. Add one candy Easter egg per cookie while the glaze is still wet. The candy egg is symbolic of life.
4. If desired, you can add sprinkles or colored sugar while the glaze is wet.
Let the glaze dry on all the cookies.
Royal Icing for Piping
Royal icing is traditionally prepared with fresh egg whites. Although highly unlikely, there is a very small chance of salmonella poisoning from improperly stored and handled eggs.  Read more about it here.
Ingredients for Royal Icing
2 Egg Whites
3 c. Confectioners Sugar
Food Coloring (if desired)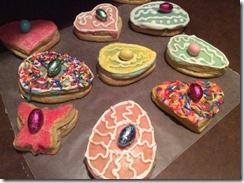 1. Sift the confectioners sugar.
2. Lightly whisk the egg whites. Whisk in the confectioners sugar 1/4 cupful at a time. Add confectioners sugar until the icing is stiff (somewhat like fluff). Put in a piping bag and decorate cookies as desired. I used only white royal icing, but you can make it different colors with food coloring if desired.
You can look at pictures figolli cookies online for ideas.
I like what Meike at Eat in My Kitchen said about decorating figolli, "By experience I can say, be brave and it will look much better!"
3. Once the icing is fully dried, you can store the cookies in tins.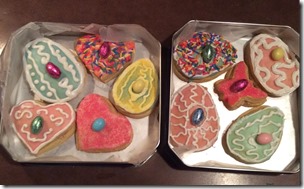 Enjoy!
Mama Lisa

This article was posted on Saturday, March 26th, 2016 at 10:12 pm and is filed under Cookies, Countries & Cultures, Desserts, Easter, Easter Cookies, Easter Recipes, Holiday Recipes, Holidays Around the World, Malta, Recipe for Figolli - Maltese Easter Cookies, Recipes of the World. You can follow any responses to this entry through the RSS 2.0 feed. You can skip to the end and leave a response. Pinging is currently not allowed.
Leave a Reply