Music and Songs from Singapore
April 8th, 2016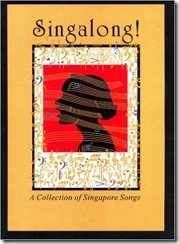 Terry from Singapore wrote to me about folk songs and children's songs from Singapore. Here's his letter…
I'm not really sure how many Singapore songs are really out there. As this is a country made up of three major cultures, with a British influence, many songs come from Chinese, Malay/Indonesian, and Indian cultures.
This book may be of interest, "Singalong – A collection of Singapore Songs".
Here is the list of songs in the book:
COMMUNITY SONGS IN ENGLISH
——–
Bunga Sayang
Five Stars Arising
For Singapore
Forever We Are One
Fried Rice Paradise
Heritage
I Love Singapore
In Singapore
It's The Little Things
Keep The Faith
Learn To Care
Let's Build Community
Lifestory
Makanplace
More Than a Garden City
Our World Our Home
Reach Out, Reach Out
River Of Dreams
We The People Of Singapore
Working Hand In Hand
COMMUNITY SONGS IN MALAY
——–
Chan Mali Chan
Dayung Sampan
Di-Tanjun g Kaiong
Dondang
Gelang Sipaku Gelang
Kau Sega lanya Ibu
Kisah Geylang Serai
Lagu-La gu Temasya
– Dayung Sampan
– Ibn Kekek
– Suri Ram
– Burung Kakak Tua
Lenggang Kangku ng
Medley Of Malay Folk Songs
– Enj it- Enjit Sernut
– Kopi Susu
– Sambal Belachan
– Nona-Nona Zaman Sekarang
– Ikan Kekek
Negara Kita
Negara Ku Tercinta
Orang Singapura
Sclarna t Datang Ke Singapura
Singapura
Singapura Bandar Raya
Singapura Jaya
Singapura-Ku
Singapura Negara – Kita
Singapura Permai
SUfi Ram
Untuk Rakyat Dan Negara
Waktu Fajar
Warga Negara
COMMUNITY SONGS IN CHINESE
——–
Chen De Jiao Zong
Dian Xian Jia Yuan Qua n
Guo Qi De Ge
Hu Ji Hua
Jin Xiu Nian Hua
Ke Ai De Xiao Tian Di
Kuai Le Gong Ren
Ming Tian Xu Yao Wo He Ni
Nian Qing De Xin
Pu Gong Ying
Qing Hua
Shang Gao Shan
Shi Jie Geng Mei Hao
Song Hua
Tai Yang Gong Gong
Tong Yao
Wei Ming Tian Fen DOLI
Wen Qing Chu Chu
Wo De Jia Yuan
Wo De Sheng Huo Zai Ze u
Wo He Xi Wang He Chang
Wo Men Shi Zui Hao De Peng You
Wo Men Ying Gai Zi Hao
Wo Yao Gao Fei
Wu Suo NanYang
Xian Chu Ni De Xin
Xiang Qian Xiang Ai Zui Jian Qiang
Xiang Xin WO Ba, Xin lia Po
Xiao Ren Wu De Xin Sheng
Xin De Qi Dian
Jia Po Pai
Yi Fen Li Liang
You Ya De Tian Di
Zai Shi lie Fang Guang Mang
Zao An • Lao Shi
Zou Chu Hci An De Shi Jie Ba! Peng You
COMMUNITY SONGS IN TAMIL
——–
Arivu Thellivu
Eedillaatha YezhiI Naadu
Engkal Singapore
Iyarkaiyin Kaatchi
Munnaeru Vaalibaa
Ondru Sacrnthu Paaduvom
Ondru Koodi Vaarungal
Otrumai
Paaduvom Vaarungal
Singapura Needu Vaazhga
Thaalaattum
(There may be some spelling mistakes. sorry)
I hope this is of help.
Regards
Terry
Thanks so much for sharing this with us Terry! It will be helpful for anyone looking for songs from Singapore.
Mama Lisa
This article was posted on Friday, April 8th, 2016 at 4:24 pm and is filed under Children's Songs, Chinese, Countries & Cultures, Folk Songs, Indonesian, Languages, Malay, Singapore, Tamil. You can follow any responses to this entry through the RSS 2.0 feed. You can skip to the end and leave a response. Pinging is currently not allowed.
3 Responses to "Music and Songs from Singapore"
Lisa Says:
April 13th, 2016 at 3:17 pm

Terry wrote, "The song Injet Injet Semut (from Indonesia) is sung by Malay children in Singapore (and in Malaysia). It is debatable where it really comes from.

It's a hand game. Here are some instructions on how to play."

Dave Says:
May 8th, 2016 at 8:49 am

@ lisa, yeah it is really debatable

Bethany Soh Says:
June 22nd, 2020 at 5:15 pm

Hi Lisa,
Would you know if the 'Singalong – Singapore songs' have both music scores and lyrics or just the lyrics without the music scores? Thanks.
Leave a Reply