Two Characters from the Persian New Year
April 9th, 2016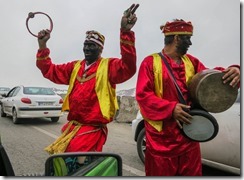 Nowruz is the Persian New Year, which takes place at the beginning of Spring.
Haji Firuz is a fictional character in Persian folklore who plays the tambourine and sings and dances in the streets at the beginning of Nowruz. His face is covered in soot and he wears bright red clothes and a hat. He demands gifts and some people give him money for singing and dancing.
Haji Firuz is the companion of Amu Nowruz (Uncle Nowruz).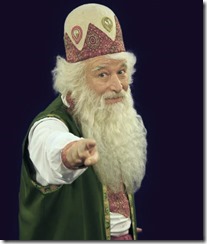 Amu Nowruz is another fictional character from Persian folklore. He has silver hair, a long beard, wears a hat and carries a walking stick.  He gives out gifts and is sometimes compared to Santa Claus.
Fatima Baji wrote, "You can see Haji Firuz in Tehran's streets. But usually we see him on TV shows during Nowruz."
You can learn three Nowruz songs on Mama Lisa's World at the following links:
Beshkan, Beshkan (Snap, Snap), It's Haji Firuj and My Lord.
Fatima wrote, "These songs are really popular in Iran and are part of Iranian folklore."
Thanks for commenting on Nowruz, Fatima!
Happy Nowruz!
Mama Lisa
Images: Haji Firuz on the road, c.c. and An actor in the role of Amu Nowruz, c.c.
Leave a Reply