Article about Mama Lisa's World
April 10th, 2016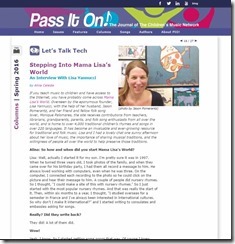 The Children's Music Network (CMN) is a group of teachers, musicians, parents and overall music lovers. Their goal is to share songs and ideas about children's music.
I recently spent time chatting with Alina Celeste, from CMN, about Mama Lisa's World. We discussed the origins of the site, the people involved with it and the songs and music.
Here's a link to the interview:
Stepping into Mama Lisa's World
Thanks for writing about us Alina!
Mama Lisa
This article was posted on Sunday, April 10th, 2016 at 5:19 pm and is filed under Children's Songs, Childrens Music, Mama Lisa, Music. You can follow any responses to this entry through the RSS 2.0 feed. You can skip to the end and leave a response. Pinging is currently not allowed.
Leave a Reply