The Oracle of Shiraz Hafiz
April 3rd, 2012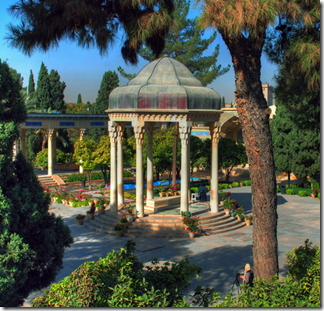 Maryam wrote from Iran explaining about the Persian tradition of "divination" by consulting the Oracle of Shiraz Hafiz for guidance.  Divination is a way to find out an answer to a question you have about your future (will you marry the one you love, will you get that job, etc.)
To understand about the "Oracle of Shiraz Hafiz" it's important to know that Hafiz is a beloved Persian poet who lived during the 14th century.  According to Wikipedia, "His collected works composed of series of Persian poetry (Divan) are to be found in the homes of most Persian speakers in Iran and Afghanistan, as well as elsewhere in the world, who learn his poems by heart and use them as proverbs and sayings to this day."
To consult the "Oracle of Shiraz Hafiz", one thinks of one's question and opens Hafiz's book of poetry to a random page.  Whichever line the person's eye reads first will hold the answer to their question.  Here's how Maryam explained it:
It's actually like this: we open the book of Hafiz's poems, read the poem, meanwhile we have something in mind (that we want to learn our fate for that matter). After reading that poem, we make some links between what it said and what we had in mind… i.e. if the poem says 'my friends left me alone' we may get to the point that the one we love would not love us back, or that something bad might happen… it's just some basic fortune telling, not really something hard to go and 'learn' from someone else.
Many go to Hafiz's tomb to find out about their "fate".  The tomb is inscribed with excerpts of Hafiz's poems.
There's an interesting article online about a visit to the Tomb of Hafez.  Here's an excerpt…
…The site is in a garden behind a wall and on the flagstone walkway to the pavilion where the tomb rests, a table had been laid with the seven traditional items Iranians use to mark the New Year and symbolize the triumph of good over evil. Each item begins with the "S" sound in Farsi, and may include eggs, apples, garlic, vinegar, sumac, olives, sprouts, and lotus tree fruit. On this table there was as well a bowl of goldfish, a mirror, and the Divan e Hafez.

Modern Persians make pilgrimage to Hafez' tomb to perform a ritual that invokes the poet to answer their questions about the future, Mr. Reza said. "Like an oracle." A person touches the carved alabaster top of the tomb, silently voices a prayer or verse from the Holy Koran, and then poses the question.
You can hear a song that refers to this tradition called Do Re Mi on Mama Lisa's World.
Photo: Wikipedia
This article was posted on Tuesday, April 3rd, 2012 at 12:06 pm and is filed under Afghanistan, Countries & Cultures, Customs and Traditions, Divan, Divination, Divination and Predicting the Future, Holidays Around the World, Iran, Languages, New Years, Persian, Poems, Poetry, Proverbs, Symbolic Displays, Symbolic Foods for the New Year, Symbols. You can follow any responses to this entry through the RSS 2.0 feed. You can skip to the end and leave a response. Pinging is currently not allowed.
Leave a Reply