Weird Childhood Sayings
April 2nd, 2012
I saw a note on Facebook about the saying "Mama had a baby and its head popped off".  It's said when you see a dandelion.  While saying it you pop off the dandelion head like in the video below.  I had never heard this one.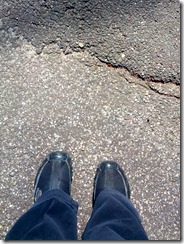 It's a bit like what kids say when they walk on pavement hopping over the cracks: "Step on the crack, break your mama's back."  I remember avoiding the cracks at all costs!
Feel free to share any sayings you remember as a kid in the comments below.
Thanks to Anne R. for sharing the dandelion saying!
-Mama Lisa
This article was posted on Monday, April 2nd, 2012 at 2:58 pm and is filed under Countries & Cultures, Dandelion Game, England, English, Games Around the World, Languages, Proverbs, Sayings, USA. You can follow any responses to this entry through the RSS 2.0 feed. You can skip to the end and leave a response. Pinging is currently not allowed.
2 Responses to "Weird Childhood Sayings"
Jennifer Says:
April 9th, 2012 at 6:30 pm

I am 46 years old and used to do the momma hadda baby too, and i never avoided the cracks though many of my childhood friends did lol (mom's back is still fine btw)

Matthew Mack Says:
April 13th, 2021 at 1:56 am

Yes! Totally did this! other sites on this reveal that this was an oral tradition that was universal around the US. So fun to think we were all saying this and deheading dandelions from Washington to Maine! In the UK they had a version "Miss Polly had a dolly and its head popped off."
Leave a Reply