The Intentional Mistake
May 20th, 2019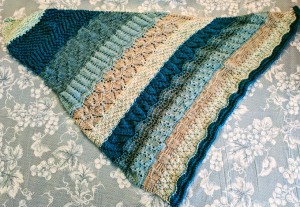 I recently took a knitting class with a lady who said that according to the Amish, "You have to make a mistake in your knitting or you tempt the devil." Another woman said it holds true for sewing and quilting projects too. The Amish will deliberately insert a mistake in an otherwise perfect quilt.
Lucky for me I don't have to insert a deliberate mistake! Being fairly new to knitting, I insert them without thinking. :)  The shawl above is my first completed knitting project. I tried to be creative and added a section in a different stitch that wasn't in the pattern (it's the eyelet stitch in light blue near the bottom). Unfortunately, I did that part "inside-out". So that section looks better on the wrong side.
I like the idea that I can consider it a feature, not a bug. I'm only human after all. Why else create something homemade if it doesn't have a little humanity in it!
Persians put deliberate mistakes into their carpets. As followers of Islam, they believe that only Allah can make things perfectly. They don't want to offend Allah by presuming that a human could produce something perfect.
According to Nizhoni Ranch Gallery, "The weaver intentionally created differences (mistakes) in this Sandpainting [rug], so as it would not be perfect and disturb the gods." (See top left corner in screenshot below.)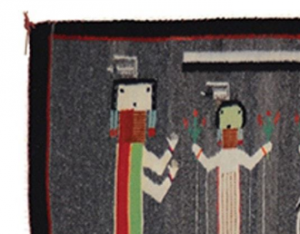 So the next time you make a mistake remember, you've just reminded yourself that you're human and added some charm to your work at the same time. It's now a one-of-a-kind piece!
-Mama Lisa
This article was posted on Monday, May 20th, 2019 at 7:42 pm and is filed under Amish, Arts and Crafts, Countries & Cultures, Iran, Knitting, Mama Lisa, Navajo, Navajo Rugs, Persian Carpets, USA. You can follow any responses to this entry through the RSS 2.0 feed. You can skip to the end and leave a response. Pinging is currently not allowed.
4 Responses to "The Intentional Mistake"
Leave a Reply