Iranian New Years Traditions
June 10th, 2014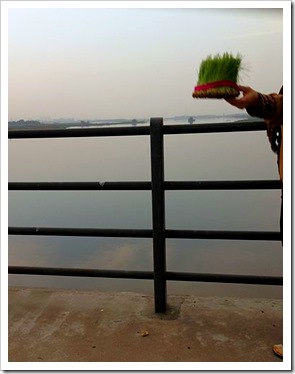 The Persian New Year is celebrated on the first day of Spring.  It's called Nowruz.  There are many New Year traditions, including throwing grass into a river or lake.  Here's what Fatima wrote from Iran about some New Year's traditions:
In the last month of the Iranian year people shake up the house (i.e. they clean the whole house like Spring cleaning) and buy new cloths and things for the new year. The main thing they do in the first two weeks of the new year is to visit relatives, family and friends.

On the last day of Nowruz, people try to spend the day out of the house and in parks and nature. Because according to old traditions, it's said that the 13th day of the first month of the new year is unlucky, and that we should go out of the house, and that those who stay at home will not have a lucky year! Actually, I don't believe that the 13th day is infelicitous, but maybe it's just a tradition.

One interesting thing about Nowruz is that before the new year people plant wheat or other grains in a plate or dish, for the first day of the new year.  The grass-plot should be grown enough to put it in the new year table setting which we call 7-Seen. On the 13th day, when people spend the day outside, they should bring the grass-plot and throw it in the water – in a river, lake, or something like that. And according to one tradition, single girls and men can tie the grass before throwing it to get married that year! Or if someone is in love with someone else they too can tie the grass in the hope of marrying their beloved. This tradition is more common with single women. That's funny I never tied any grass till now, but this year was the first year that I planted grass, maybe I'll marry this year! LOL. Have fun Fatima
Thanks for writing Fatima and sharing your traditions with us! 
-Mama Lisa
PS The part about tying the grass to get married is particularly interesting -I just wrote about the symbolism behind the English phrase, "to tie the knot" (i.e. to get married).  There are many traditions around the world in which tying a knot signifies love and marriage.
This article was posted on Tuesday, June 10th, 2014 at 3:13 pm and is filed under Countries & Cultures, Customs and Traditions, Holidays Around the World, Iran, Languages, Love, New Years, Nowruz - Persian New Year, Persian, Tie the Knot, Weddings, Weddings, Words & Phrases. You can follow any responses to this entry through the RSS 2.0 feed. You can skip to the end and leave a response. Pinging is currently not allowed.
Leave a Reply