The Persian Snap (Beshkan)
March 24th, 2016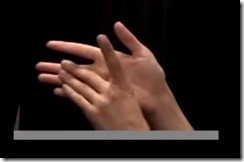 In Iran, they have a two handed finger snap that's louder than the traditional western finger snap.  It's called Beshkan (in Persian: بشكن ) The beshkan snap is often used in Persian dances. It's also done to egg people on to dance.  It's done at parties. It's done when someone hears good news.
The easiest way to learn how to do the beshkan snap is to watch the videos below. Here's a description in case it helps:
How To Do the Beshkan Snap:
1. Place the palms together. 
2. Twist your hands so you can tuck one thumb under the other hand.  Your pinky, ring, middle and index fingers should line up with each other still.
3. Put the other thumb down over the pointer finger knuckle to put pressure on the pointer and then attempt to snap the two pointer fingers.
4. Keep practicing until you get it. You can do it!
Here are some videos in English to teach you how to do the beshkan snap (one is for righties and the other is for lefties)…
The Beshkan Snap for Righties

The Beshkan Snap for Lefties

The beshkan snap is also done in other parts of the Middle East, including Saudi Arabia.
The beshkan snap is fun for kids to learn too.
Enjoy!
Mama Lisa
Image: Youtube
5 Responses to "The Persian Snap (Beshkan)"
Leave a Reply