Persian Animation Inspired by Persian Rugs
May 27th, 2013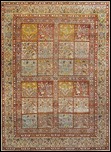 We recently received a Persian children's song called Lili Hozak with a link to a YouTube animation.  The style is very interesting.  Here's what our correspondent Fatima wrote, "I love the animation. Such animations are the Iranian style of animation. They used old patterns of Iranian carpets for drawing the landscapes and the animals too."
You can see the animation below and the song lyrics here.
Thanks to Fatima for sharing!
Mama Lisa
This article was posted on Monday, May 27th, 2013 at 2:36 pm and is filed under Animation, Children's Songs, Countries & Cultures, Iran, Languages, Persian, Video, YouTube. You can follow any responses to this entry through the RSS 2.0 feed. You can leave a response, or trackback from your own site.
One Response to "Persian Animation Inspired by Persian Rugs"
Lisa Says:
July 25th, 2016 at 9:07 am

Thanks so much for sharing!
Leave a Reply