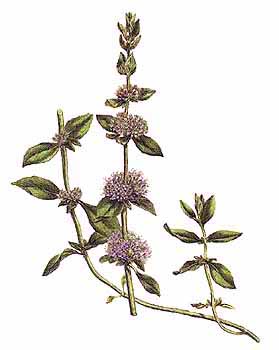 Sleep, Sleep, Pennyroyal Flower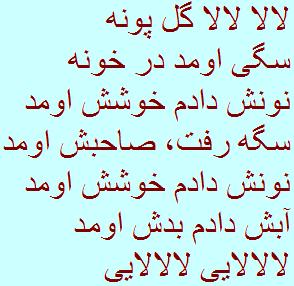 Sleep, sleep, pennyroyal* flower,
A dog came near our house,
I gave it bread, it liked it!
The dog went and its master came,
I gave him bread, he liked it
I gave him water, he hated it!
Lullaby, lullaby.
Notes
*Pennyroyal is a variety of mint.

*****

Transliteration

Lala lala gole poone

Lala lala gole poone
Sagi oomad dare khoone
Noonesh dadam, khoshesh oomad
Sage raft o sahebesh oomad
Noonesh dadam khoshesh oomad
Abesh dadam badesh oomad
Lalalaye lalalaye.

"kh" like Spanish "j" or German "ch" in Bach.

*****
Comments
Here's the computerized text: (we apologize if it doesn't display properly on your screen):


لالا لالا گل پونه


لالا لالا گل پونه
سگی اومد در خونه
نونش دادم خوشش اومد
سگه رفت، صاحبش اومد
نونش دادم خوشش اومد
آبش دادم بدش اومد
لالالایی لالالایی

Thanks and Acknowledgements
Many thanks to Fatimah Baji for contributing, transliterating and translating this song.

The illustration of the Pennyyroyal Plant comes from Medical botany by William Woodville. London, James Phillips, 1793, 1. edition, volume 3 (plate 171).
Khay'ly Mo'teh'shaker'am!