The Ball
Children's Song
Children's Song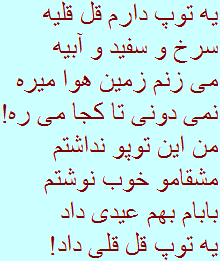 I have a ball, a round ball
It is red, white and blue
When I hit it, it rises into the air
You don't know to where it rises!
I didn't have this ball
I did my homework well
Then my dad gave me a prize:
A round ball!
Notes
Transliteration

Toop

Ye toop daram ghel ghelie
Sorkh o sefid o abie
Mizanam zamin hava mire
Nemidooni ta koja mire!
Man in toopo nadashtam
Mashghamo khoob neveshtam
Babam behem eydi dad
Ye tope ghel gheli dad!

"kh" is a velar sound, like Spanish "j" or Scottish "ch" in "loch"
"gh" is a voiced velar sound, the one made when gargling.

This song is also sung in Afghanistan.
Comments
Here's the computerized text: (we apologize if it doesn't display properly on your screen):


توپ
یه توپ دارم قل قلیه
سرخ و سفید و آبیه
می زنم زمین هوا میره
نمی دونی تا کجا می ره!
من این توپو نداشتم
مشقامو خوب نوشتم
بابام بهم عیدی داد
یه توپ قل قلی داد

Many thanks to Fatima's niece for the recording of The Ball!
Thanks and Acknowledgements
Many thanks to Fatimah Baji for contributing, transliterating and translating this song.
Khay'ly Mo'teh'shaker'am!