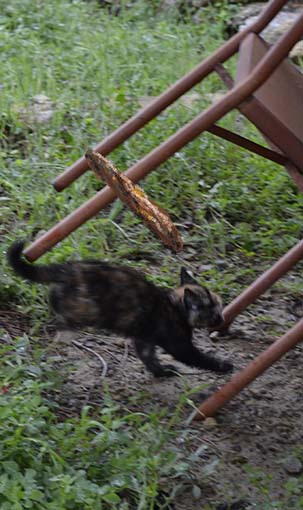 Atirei o pau ao gato
I Threw the Stick to the Cat
Children's Song
Children's Song
Atirei o pau ao gato-to
Mas o gato-to
Não morreu-rreu-rreu
Dona Chica-ca
Assustou-se-se
Com o berro
Com o berro
Que o gato deu
MIAU!

À sentada à chaminé-né-né
Veio uma pulga-ga
Mordeu-lhe o pé-pé-pé
Ou ela chora
Ou ela grita
Ou vai-se embora
Pulga maldita!
I threw the stick to the cat-cat
But the cat-cat
Has not died-ed-ed
Mrs. Chica-ca
Scared off-off-off
With the scream
With the scream
Of the cat
MEOW!

Sitting on the chimney-ey-ey
Came a flea-flea
Bit her foot-foot-foot
Or she cries
Or she screams
Or goes away
Damn flea!
Comments
Carolina wrote: "Probably the most known song in our repertory. Our "Sesame Street's" first version even had a Mrs. Chica and her kitty. Anyway, despite the violence of the lyrics... Every children knows it and I've never seen one trying to beat cats with sticks.


Sheet Music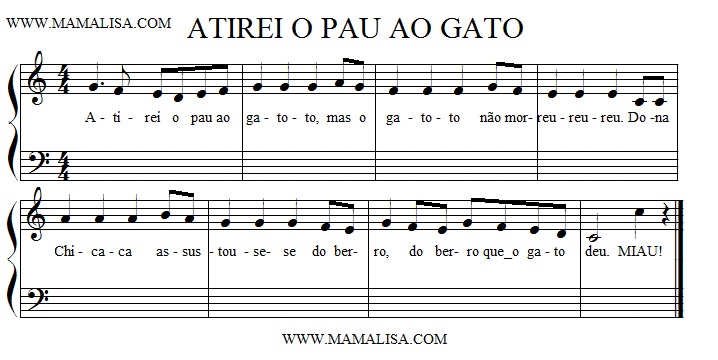 Thanks and Acknowledgements
Many thanks to Carolina Vargas for contributing and translating this song.

Image: Monique Palomares
Obrigada!