Watch Darth Vader say "I am your Father" in 20 Languages
April 14th, 2015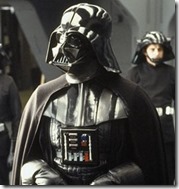 Watch Darth Vader say, "I am your father" to Luke Skywalker in the Star Wars movie in 20 different languages (as dubbed in the movies).  You can see a list of the languages with their voice actors below the video.
Languages and Voice Actors:
English (Original) – James Earl Jones
Spanish (1980) – Isidro Olace
Spanish (1997) – Frederico Romano
Portuguese – Renato Cardoso
Brazillians – Silvio Navas
German – Heinz Petruo
French – George Aminel
Italian – Massimo Foschi
Catalan – Adam Téodor
Spanish (1999) – Constantino Romero
Czech – Bouhumil Svãrc
Hungarian (1982) – Attila Nagy
Hungarian (1995) – Frigyes Hollosi
Hungarian (2004) – Lajos Krànitz
Russian – Vladimir Isidrorà
Chinese – Huo Kongabarah
Japanese – Ohira Toru
Arabic – Hamed Azza
Hebrew – Azgad Yossi
Jisieno – Roger Tinner
Thaï – Abdul Chalit
My favorites, after the original of course, are the Chinese and German versions.
Enjoy!
Mama Lisa
This article was posted on Tuesday, April 14th, 2015 at 6:05 pm and is filed under Arabic, Brazil, Canada, Catalan, Catalan, China, Chinese, Countries & Cultures, Czech, Czech Republic, English, France, French, German, Germany, Hebrew, Hungarian, Hungary, Israel, Languages, Movies, TV & The Internet, Portugal, Portuguese, Russia, Russian, Spain, Spanish, Thai, Thailand, USA, YouTube. You can follow any responses to this entry through the RSS 2.0 feed. You can skip to the end and leave a response. Pinging is currently not allowed.
Leave a Reply