The Moon-Baby – A Poem & Lullaby
April 14th, 2015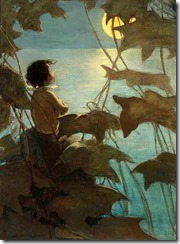 "The Moon-Baby" is a pretty poem that can be read or sung to young children before bedtime.

The Moon-Baby
There's a beautiful golden cradle
That rocks in the rose-red sky;
I have seen it there in the evening air
Where the bats and beetles fly,
With little white clouds for curtains
And pillows of fleecy wool,
And a dear little bed for the moon-baby's head,
So tiny and beautiful.
There are tender young stars around it,
That wait for their bath of dew
In the purple tints that the sun's warm prints
Have left on the mountain blue;
There are good little gentle planets,
That want to be nursed and kissed,
And laid to sleep in the ocean deep,
Under silvery folds of mist.
But the moon-baby first must slumber,
For he is their proud young king;
So, hand in hand, round his bed they stand,
And lullabies low they sing.
And the beautiful golden cradle
Is rocked by the winds that stray,
With pinions soft, from the halls aloft,
Where the moon-baby lives to-day.
Enjoy!
Mama Lisa
This article was posted on Tuesday, April 14th, 2015 at 1:54 pm and is filed under Countries & Cultures, England, English, Languages, Lullabies, Poems, Poems about Childhood, Poems about Children, Poetry, USA. You can follow any responses to this entry through the RSS 2.0 feed. You can skip to the end and leave a response. Pinging is currently not allowed.
Leave a Reply