The Origins of the Generic Dog Names Fido, Rover, and Spot
April 22nd, 2015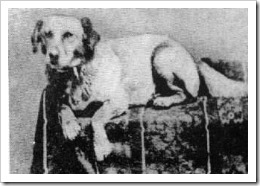 Have you ever considered where the generic dog names Fido, Rover and Spot come from? These are the canine equivalent of "John Doe".  Did you know that one was a President's dog, another the 1st movie star dog, and the last, a dog from a book that helped kids learn to read for over 40 years?
The dog name Fido means "faithful".  It comes from the Latin word "fidelitas".  There are two famous dogs with the name of Fido in history…
Abraham Lincoln had a dog named Fido.  He was the 1st president's dog to be photographed.  Newspapers became interested in him and put his photo in the  papers.  Fido became the most popular dog name in the US.  It's interesting to note that Fido even attended President Lincoln's funeral.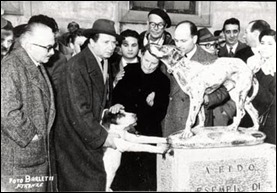 There was a famous canine named Fido who lived in Italy during WWII.  He was owned by a brick kiln worker named Carlo Soriani who lived in the town of Borgo San Lorenzo.  For two years Fido would walk to the bus stop with Soriani on his way to catch a bus to work.  Fido would also greet his master at the bus stop at the end of the work day. One day, the factory Soriani worked in was bombed and he perished.  That evening, Fido showed up at the bus stop but his master wasn't there.  Every day for the next 14 years he went to the bus stop waiting for Soriani to return from work.  Italian newspapers picked up the story about Fido, making him famous.  They even built a statue to him in his home town.  Fido was faithful until the day he died.
The dog's name Rover comes from a movie.  In 1905, a short British film was released called, "Rescued by Rover".  It's the first film starring a dog. In the film Rover is the hero, saving a little baby from kidnapping. It's fascinating to see since it's such an early film. It made the name Rover known thoughout the English speaking word.  You can watch the film below (it's 6 1/2 minutes long).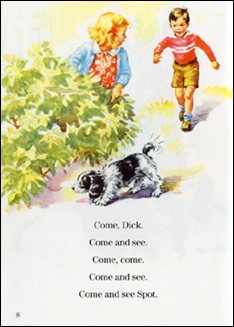 The dog's name Spot comes from the book series that helped kids learn to read during the 1930's through the '70's, called "Dick and Jane".  Their dog was called Spot.
It's interesting to consider generic dog names because they're a part of our language and culture that we take for granted. Yet the names Fido, Rover and Spot are there for us whenever we need to refer to a generic dog.  Very useful indeed!
This article was posted on Wednesday, April 22nd, 2015 at 7:46 pm and is filed under Countries & Cultures, England, English, Generic Dog Names, Italian, Italy, Languages, Latin, USA, Words & Phrases, YouTube. You can follow any responses to this entry through the RSS 2.0 feed. You can skip to the end and leave a response. Pinging is currently not allowed.
8 Responses to "The Origins of the Generic Dog Names Fido, Rover, and Spot"
Leave a Reply