The Meaning of Handkerchief Around the World
October 21st, 2014
Monique and I have been adding a lot of Drop the Handkerchief Games to Mama Lisa's World.  This got Monique thinking about the actual meaning of handkerchief in different languages.  Here are some of her thoughts…
"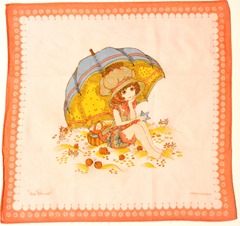 I was thinking about the word for handkerchief in some languages and it's funny what they literally mean.
In English, "handkerchief" is a kerchief you hold or take in your hand.  "Kerchief" comes from the French term "couvre-chef" = "headcover" (headscarf).  I didn't know that!
In Italian, it's Fazzoletto meaning "little fazzuolo" = "little kerchief".
In Spanish, it's "pañuelo" meaning "little paño" = "little piece of fabric". 
There's also "mocador" in Spanish, which is the equivalent of the French "mouchoir" meaning "something to blow one's nose with".  In Occitan, the language of the Troubadours, it's "mocador".  The same meaning as French.
In Portuguese, it's "lencinho" meaning "little lenço" = "little sheet" or "little piece of fabric".
In German it's "Taschentuch" = "a cloth you put in your pocket"
What do you call a handkerchief in your language and what does it mean?"
-Monique
Monique Palomares works with me on the French and Spanish versions of Mama Lisa's World. –Mama Lisa
This article was posted on Tuesday, October 21st, 2014 at 6:56 pm and is filed under Countries & Cultures, England, English, France, French, German, Germany, Handkerchief in Many Languages, Languages, Occitan, Occitan, Portugal, Portuguese, Spain, Spanish, USA, Words & Phrases. You can follow any responses to this entry through the RSS 2.0 feed. You can skip to the end and leave a response. Pinging is currently not allowed.
8 Responses to "The Meaning of Handkerchief Around the World"
Leave a Reply