A Children's Tale

This is a well-known story in China...

Kitten Wets the Bed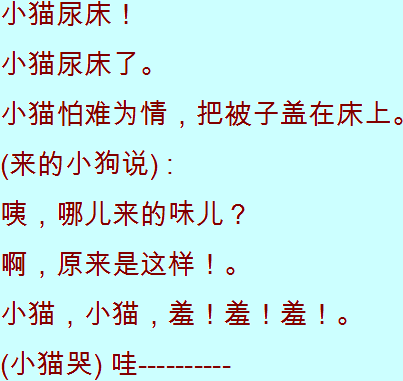 Kitten wets the bed!
Kitten has wet the bed.
Kitten fears being brought in embarrassment,
Takes a blanket and lays it on the bed.
(Little dog came in and says: )
Yuh, where is that smell coming from?
Ah, this is the cause!
Kitten, kitten, shame! shame! shame!
(Kitten weeps) Wah-------.
Notes
The English version above is a loose translation.

Transliteration

xiăo māo niào chuáng!
xiăo māo niào chuáng le.
xiăo māo pà nán wéi qíng, bă bèizi gài zài chuáng shàng
(lái de xiăo gōu shuō : )
Yí, nă r lái de wèi r ?
À, yuán lái shì zhè yàng !
xiăo māo, xiăo māo, xiū, xiū, xiū.
(xiăo māo kū : ) wā …...

*****

Anna-Marie wrote: This is a well-known story in China.
If you like I can give you the Dutch translation too. Maybe this is good for people in Belgium and the Netherlands...

poesje plast in bed
poesje heeft in bed geplast
poesje vreest in verlegenheid gebracht te worden,
grijpt het deken en legt het op het bed
(het kleine hondje komt binnen en zegt: )
bah, vanwaar komt die geur?
Ah, de oorsprong is van deze aard!
poesje, poesje, schaam je, schaam je, schaam je.
( poesje weent ) whei---------.
Comments
The Chinese Text in computer format (we apologize if it doesn't display properly on your screen):

小猫尿床


小猫尿床!
小猫尿床了。
小猫怕难为情,把被子盖在床上。
(来的小狗说) :
咦,哪儿来的味儿?
啊,原来是这样!。
小猫,小猫,羞!羞!羞!。
(小猫哭) 哇----------
Thanks and Acknowledgements
Many thanks to Anna-Marie for contributing this song, for transliterating and translating it into English and Dutch.
M goi! & Xie xie!